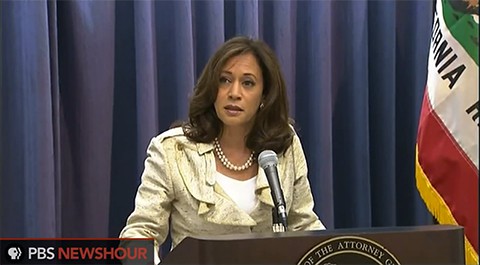 Late last week, San Diego County Clerk Ernest J. Dronenburg Jr. filed a petition with the California Supreme Court to halt same-sex marriages in the state on the grounds that the 2010 federal court ruling by District Judge Vaugh Walker only applies to the two couples who petitioned the court and their respective counties (Los Angeles and Alameda). On Monday, California Attorney General Kamala Harris strongly urged the court to deny the request for a stay, according to the LA Times:
"The public interest weighs sharply against issuing a stay in this case," Harris' office argued. "After years of litigation, there is now a final determination that Proposition 8 is unconstitutional."
Responding to Dronenburg's notion that a more limited view of Walker's ruling should be applied, "Harris countered that [Walker's] injunction applied statewide because it also ordered [Governor] Brown and other statewide officials to stop enforcing Proposition 8, and those officials have authority over county clerks."
In briefs filed with the Court, Harris went even further in arguing against the requested stay of same-sex marriages:
"The Court should deny the stay because the petitioner has no likelihood of success on the merits. The petition is an impermissible collateral attack on the district court's final judgment. This Court is not the proper forum to litigate the scope or validity of the district court's injunction, as that question is properly presented to the federal district court. The federal injunction applies statewide, and the State Registrar's notices to the petitioner of his legal obligations under the terms of a federal injunction do not violate article III, section 3.5 of the California Constitution. Even if successful, the requested stay would not shield petitioner from proceedings to compel his compliance with the federal injunction."
Dronenburg's petition is the second in California to challenge same-sex marriage in California since the Supreme Court overturned Prop. 8 on a question of standing in June. Last week a request from the backers of Prop. 8 to halt gay marriages was denied by the California Supreme Court.
Read Harris' opposition to the stay AFTER THE JUMP…
Dronenburg v. Brown (Prop 8) Opposition to Stay by EqualityCaseFiles