Conservatives are calling on Costa Rican President Laura Chinchilla to veto a bill passed in the legislature which contained language that appears to offer a path to legalized same-sex marriage in the country, Tico Times reports: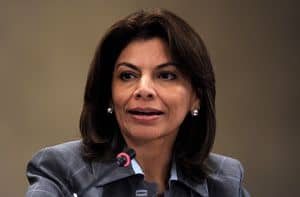 Conservative lawmakers voted for the bill's passage without recognizing the included language that could be interpreted to change the definition of marriage, according to the daily La Nación. Lawmakers immediately called for President Laura Chinchilla to veto the bill.
José María Villalta, a lawmaker from San José, inserted the language into the bill. Villalta is a member of the leftist Broad Front Party. The language confers social rights and benefits of a civil union, free from discrimination, according to La Nación. Villalta attached the measure to a reform of the Law of Young People, which covers various social services for young people and laws governing marriage.
"During the discussion in the first debate, we explained that the Law of Young People should be interpreted with this sense of opening to gays and no one objected," Villalta said, according to La Republica.
Conservative politicians such as Justo Orozco, a member of the evangelical National Renovation Party, slammed the measure. "That preference is not a right," Orozco said, according to La Nación. "It's a stunted development of sexual identity. It can change like alcoholism, tobacco addiction."
Chinchilla has in the past said she is "adamant" about her belief in 'traditional marriage' but has also said she would not oppose a court ruling legalizing same-sex marriage.
She also said she will not veto this bill:
"No, we're going to go forward and will sign this law. We understand that the debate is over how some interpret the law and this alone is not sufficient for the executive to veto the law," Chinchilla told reporters, according to a video posted by AmeliaRueda.com.
The president added that the only members of government equipped to interpret the law are judges and lawmakers.
Communications Minister Carlos Roverssi confirmed the president's statement, according to the daily La Nación.