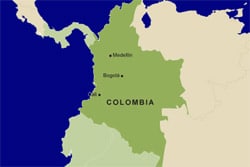 Despite the recent ruling by a judge in Bogota in support of marriage equality, doubts continue to linger about whether same-sex couples can indeed get married in Colombia. The confusion stems from a 2011 ruling from Colombia's Constitutional Court that declared the nation's Congress must act by June 20, 2013 to provide same-sex couples with the same rights before the law as heterosexual couples. After that date came and went without any substantive action by the Congress, it was up to court officials, mainly judges and notaries, to decide how they would implement the court's order. However, there has been some uncertainty as to whether the high court's ruling necessarily mandated that marriage equality become the law of the land. Inspector General Alejandro Ordóñez, "who oversees how public officials do their jobs" in Colombia, recently petitioned the Constitutional Court for a clarification on its 2011 ruling, BuzzFeed reports:
"On Friday, the court rejected Ordoñez's petition for it to clarify that it did not intend to open marriage to same-sex couples. And Constitutional Court President Jorge Iván Palacio sternly warned Ordoñez to "observe the determinations of this Court and monitor their strict and timely compliance."
Palacio also called Ordoñez out for disparaging the court's authority, "inviting" him to "maintain decorum" when addressing the court in the future.
Palacio's statement was more concerned with ensuring the independence of the judiciary than with the question of same-sex marriage. Though it shut down Ordoñez, it also did not clarify that it intended for couples to have the right to marry. The high court seems to want the issue to percolate more among lower judges and notaries, though it is widely expected to have to revisit the issue."
Though doubts remain, marriage equality activists in Colombia view the Court's rejection of Ordoñez's petition as a victory:
"A free path for #marriage equality," tweeted human rights lawyer Viviana Bohórquez, which was retweeted by Marcela Sánchez, the executive director of Colombia's leading LGBT rights organization, Colombia Diversa."