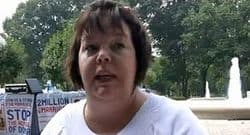 Still fuming over the Supreme Court's pro-equality decisions, NOM's Maggie Gallagher appeared on conservative talk radio host Lars Larson's show the other day to blast the Supreme Court for issuing a "head-on declaration of war against at least half of the American people." Right Wing Watch reports:
In an interview with Lars Larson, Gallagher said that the court's pro-marriage equality rulings limit the "democratic rights" of activists who seek to ban same-sex unions and argued that the justices could "not name" where gay and lesbian couples are protected in the Constitution. 
Earlier in the interview, Gallagher made the claim that Prop 8 supporters were "kicked out of court…[without] any justice"
Listen, AFTER THE JUMP…