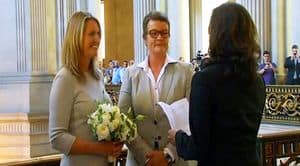 Proposition 8 has been dead for less than a month, and already, its advocates are trying to honor its memory by asking the California Supreme Court to order county clerks to stop issuing marriage licenses to same sex couples. They contend that governor Jerry Brown lacked the authority to put an end to the enforcement of Prop 8, since a provision in the California constitution prohibits officials from refusing to enforce a law unless an appellate court has first determined that said law is unconstitutional. According to the LA Times, "there is no binding appellate ruling that says Proposition 8 is unconstitutional."
The 50-page challenge is being filed by Protect Marriage, the same group that sponsored Prop 8, and is stated as "concerning the rule of law and limitations on public officials' authority." They claim that the California court has a duty to intervene. If not…
"the end result will be to allow one federal district judge — empowered by state officials who openly advocated for and ceded to Proposition 8's demise — to nullify a constitutional initiative approved by more than seven million voters."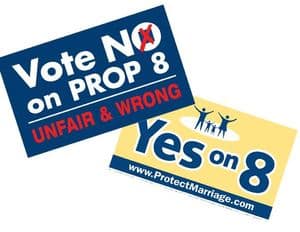 This new challenge is a continuation of the controversy surrounding the injunction filed by now-retired Chief U.S. District Judge Vaughn R. Walker. Since the U.S. Supreme Court did not directly issue a ruling on the case, Walker's injunction was left in place. Thus, this new challenge would expect to put a new spin on the earlier decision, especially when it was the subject of such controversy at the time. 
The LA Times remarked that legal experts consider this move to be "an extreme long shot". UC Davis Law Professor Vikram Amar said to them that the California Supreme Court will likely see this challenge "as an invitation to intervene in a federal matter." Amar went on to explain.
"The California Supreme Court will likely stay out of this and say the scope of Judge Walker's order is a matter for the federal courts to determine…State courts generally won't get into the business of construing federal court orders. They leave that to the federal courts."
The court normally meets on Wednesdays to decide on such challenges. However, they can theoretically issue a decision at any time. They could also simply refuse to intervene, or ask for additional written arguments before issuing a decision.