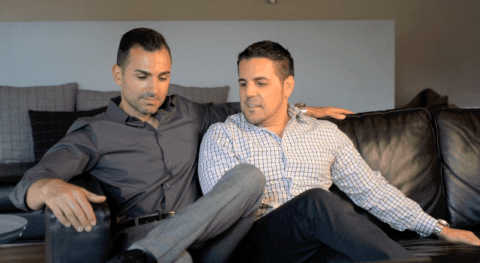 One week after their historic victory over Prop 8, and just five days after finally saying "I do," Jeff Zarrillo and Paul Katami sat down with the Daily News to discuss married life in the aftermath of their four-plus-year long battle with the courts, as well as the celebration that took place afterward. 
"It was just such an amazing week because our lives changed in such a profound way, as well as thousands of others," said Zarrillo, "You've seen wedding after wedding on TV and in the newspaper; we saw a lot in person when we were in San Francisco this weekend. Just seeing how their lives are changing because of our lawsuit has been really profound and frankly, a little heavy to take in at times."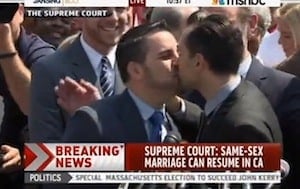 Just two days after the Supreme Court released the ruling that ended Proposition 8, the two men were married at LA City Hall. That day also happened to be the anniversary date of the historic Stonewall riots. Zarrillo was quick to express his pride, stating that, "now we share our anniversary with those brave men and women who just said enough is enough and fought back." Katami expressed similar emotions, which, according to him, started manifesting immediately after the two were finally married.
"I felt taller, I felt lighter. I felt like I could breathe a little easier and I couldn't wait to call him husband…We fought for so long to be able to use that language that defines who we are privately and also associates us publicly…It makes a huge difference."
While the two are absolutely thrilled to finally be an officially married couple, their joy is slightly dampened by the fact that many LGBT couples across the country still don't enjoy their same rights. Two such people were a lesbian couple from Arizona, who drove to San Francisco to join in the celebration. Upon congratulating the two men, one of the women began to cry and explained that they would be returning home to a place where their rights are not recognized. Zarrillo described the experience.
"I'll never forget the look on her face when we let go of the hug and she was crying," Zarrillo said. "I started crying and it stuck with me ever since. I can't get that out of my head, nor should I."
While Katami and Zarrillo, who have opted to keep their names intact, do look forward to resuming their life together as a normal married couple, Katami has conceded that they would still like to be advocates for the cause. To him, they are still naturally suited for the job, "because the voice we lent to our case was a voice that is heard across the country."
Watch a video excerpt from the interview AFTER THE JUMP…