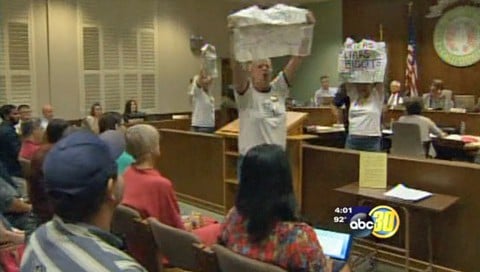 In 2009, Porterville, California's City Council faced outrage from some of the community after it passed a resolution publicly supporting Proposition 8.
Recently the town has been in a heated debate over plans by some of the Porterville City Council members to rescind an LGBT Pride proclamation made by the city's mayor, Virginia Gurrola.An overflow crowd turned out at the City Council meeting in June and some heated debate took place.
On Tuesday night, the City Council voted 3-2 to resind the mayor's LGBT Pride proclamation, prompting a protest by three activists who stormed the chamber holding up signs reading "liars" and bigots". They were arrested.
ABC30 reports:
City Councilmember Pete McCracken voted down taking back the proclamation because in the city's history. The mayor has always had a right to issue a proclamation without the council's approval. Three other councilmembers disagreed, voting to rescind the proclamation and instead issue a more broad resolution that did not specify the gay community. The outbursts by both sides even sent the mayor out of the room in tears.
Even though McCracken would have voted to keep the proclamation, he chose not to sign it when the mayor issued it last month. "I did not sign the proclamation. I did not feel at the time that the proclamation the way it was written was appropriate," McCracken said.
As for the protests, McCracken said the demonstration clearly violated city rules. "Had they done it on the street, more power to them, gazebo across the street, no problem. In the council chambers the rules are no posters there are no signs there are no demonstrations," McCracken said.
Watch ABC30's report on the vote and arrests, AFTER THE JUMP…