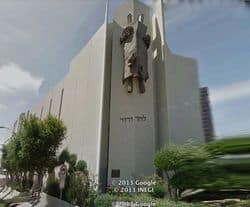 While conservative religious bigots have already voiced their opposition to the recent pro-equality Supreme Court decisions, it remains to be seen how moderate and progressive religious organizations will handle the new reality of gay visibility.
When David Wolpe, rabbi of the well-known Sinai Temple in Los Angeles, announced in a letter to his synagogue that gay marriages would be performed in the temple as a result of the Prop 8 decision, a sizeable opposition emerged from members of his Conservative Jewish congregation. The Sinai Temple, famous for its wealth and its large population of Persians who fled Iran after the fall of the shah, has splintered in response to the rabbi's decision.
From The New York Times:
Celebrating same-sex marriages is hardly a new stand for Conservative Jewish congregations. But the decision in this distinctive synagogue has set off a storm of protest in recent days, particularly from Persian Jews, reflecting not only the unusual makeup of the congregation but also the generational and cultural divisions among some Jews over how to respond to changing civil views of homosexuality.
"To officiate a union that is expressly not for the same godly purpose of procreation and to call such a relationship 'sanctified' is unacceptable to a sound mind," M. Michael Naim, an architect, said in an open letter to other Iranian members of the congregation. "Homosexuality is explicitly condemned in Scripture and has been categorically and passionately rejected by all classical Jewish legal and ethical thinkers as a cardinal vice in the same category as incest, murder and idolatry."
Rabbi Wolpe said that based on letters he had received, and comments voiced to him as he walked the aisles of the sprawling, sunny sanctuary on Wilshire Boulevard during Saturday morning service, close to half of the congregation of 2,000 families, which is about half Persian, was unhappy with the new policy.
As many as 10 families have already announced their intention to leave the congregation. Wolpe, however, remains unfazed by any potential backlash. He sees the decision as one of fairness and in line with the best tradition of the Conservative movement, which views the Torah as a living document that allows room for new understandings and approaches.
"As we have modernized the role of women and many other practices, the demand on the part of our brothers and sisters who are gay to be able to live in a sanctified relationship is a call to our conscience and our responsibility as Jews."
Wolpe later added, "I've been wanting to do this for a long time"