City Attorney of San Francisco Dennis Herrera has issued a swift response to a request to the California Supreme Court from Prop 8 proponents that the Court immediately halt gay marriages: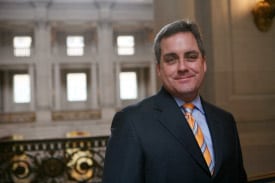 San Francisco City Attorney Dennis Herrera will promptly oppose a move by the proponents of Proposition 8 that seeks to block equal marriage rights for same-sex couples in California. The motion filed by ProtectMarriage.com in the state Supreme Court this morning names all California counties — including San Francisco — as defendants, and contends that Gov. Jerry Brown did not have the authority to direct county officials to stop enforcing Prop 8 because the measure had not been deemed unconstitutional by an appellate court. The U.S. Supreme Court's June 26 ruling, holding that the measure's sponsors lacked standing to appeal, left intact a U.S. District Court ruling that Prop 8 was unconstitutional. The petition filed with the state high court today is Hollingsworth v. O'Connell.
"This motion is a desperate obstruction tactic used in the vain hope of pursuing an unconstitutional agenda," said Herrera. "The opponents of the freedom to marry have chosen to ignore the Supremacy Clause of the Constitution, a U.S. Supreme Court ruling, and the well-settled California marriage case of Lockyer v. San Francisco, which they themselves celebrated at the time. Their motion has essentially no chance to succeed. The most basic concepts of American law tell us that a state court cannot and will not overrule the federal judiciary. The citizens of California are left wondering when these people will realize that, having lost the moral struggle years and years ago, they have now lost the legal struggle as well. Marriage equality is now the law in the State of California, and will remain so from this point onward. Together we will soon see the day when it is the law all across America."
Herrera has served as co-counsel in the Prop 8 case since 2009.
More on Herrera's response HERE and Protect Marriage's request, HERE.