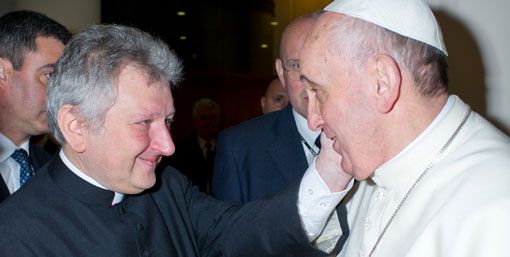 Last month, Pope Francis admitted the existence of a "gay lobby" within the Vatican.
Yesterday, the Italian news magazine, L'Espresso published an article that links prelate Battista Ricca, who was recently appointed by the Pope to a vital position with the Vatican bank, to the "gay lobby" and reveals that he has been involved in numerous relationships with gay men. Apparently, the Pope had only recently become aware of these relationships.
The article alleges that Ricca was involved with include a Swiss army captain and a young man who some speculate to be a male prostitute.
AFP on other highlights from the report:
Vatican expert for L'Espresso Sandro Magister said Ricca provided lodgings and a pay check for captain Patrick Haari in 1999 and was once left badly beaten after trawling notorious gay hangouts before his behaviour saw him transferred out of Montevideo in 2000.

An internal bid to protect him and cover up the scandal meant Francis apparently had no idea about Ricca's past before he appointed him as his personal representative at the scandal-hit bank this year.

Ricca went on to hold several prestigious positions in Rome, including the director of the Santa Martha residence where the pope lives.

Magister said the wiping of Ricca's records was an example of a "gay lobby" at work in the Vatican.
A Vatican spokesperson has denied Ricca is a member of the "gay lobby" and has called the L'Espresso piece "not credible."
An English version of the L'Espresso article is available on the newspaper's website.