Published by
AFP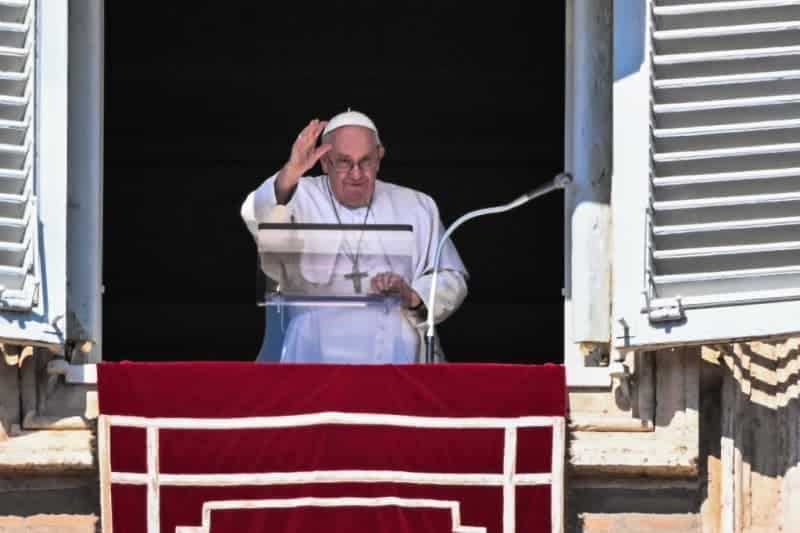 Jorge Bergoglio became pope in March 2013 after Benedict XVI's surprise resignation
Vatican City (AFP) – Pope Francis marked 10 years as head of the Catholic Church on Monday with a podcast, a private mass and a series of interviews, one of which triggered a diplomatic spat with Nicaragua.
"It seems like yesterday," the 86-year-old recalled of his election during a podcast for the official Vatican News outlet — after first having to be told what a podcast was.
Asked what he would like as a gift for his 10-year anniversary, for which he had no public plans beyond a mass with cardinals, Francis added: "Peace. We need peace."
Jorge Bergoglio was elected pope on March 13, 2013, after his predecessor Benedict XVI stunned the world by becoming the first pope to resign since the Middle Ages.
He has said he never expected to be elected, only packing a small suitcase to travel from Argentina to Rome for the conclave on the assumption he would soon be back in Buenos Aires, where he was archbishop.
But he had a vision, and over the next decade he would overhaul the governance of the Church, including cleaning up the Vatican books and taking action against clerical child abuse.
He also shifted many people's perception of the papacy by engaging less in theology and more with social issues from migration to the environment.
And even while maintaining traditional doctrine on issues such as abortion and gay marriage, he has sought to forge an image of a more open, compassionate Church.
Nicaragua row
"He is a Pope for this time," said Italian priest Father Roberto, who travelled to Saint Peter's Square to hear the pope deliver his weekly Angelus prayer on Sunday.
"He managed to grasp today's needs and to propose them to the whole universal Church… And now he's giving the Church a push forward for the years to come. He is sowing good for the future."
However, not everyone is enamoured of Francis' approach, notably the conservative wing of the Catholic Church. One critic, German Cardinal Gerhard Mueller, recently criticised the pope's "doctrinal confusion".
Francis has never shied away from controversy, regularly using his pulpit to rail against everything from the mafia to consumerism and the arms industry.
In one of his anniversary interviews, with Argentine news outlet Infobae, he described the government of Nicaraguan President Daniel Ortega as a "crude dictatorship".
Ortega's government — which has long had tensions with the Catholic Church — responded on Sunday by saying it was considering suspending diplomatic ties with the Vatican.
In another interview, with Swiss broadcaster RTS last week, the pope denounced the involvement of all the "great powers" in the Ukraine war. 
He prays regularly for the victims of the war, although he has been criticised for failing to squarely put the blame on Russia as the aggressor.
'It's not easy'
Pope Francis has sought to improve ties with Islam during his papacy, and Sheikh Ahmed al-Tayeb, the grand imam of Cairo's prestigious Al-Azhar mosque, was one of those who sent their congratulations on his 10-year milestone.
In a letter published by Vatican News, al-Tayeb hailed the pope's efforts to "build bridges of love and fraternity among all human beings".
Messages of congratulations also came in from Ecumenical Patriarch Bartholomew, the leader of the world's Orthodox Christians, and Anglican leader Justin Welby, the Archbishop of Canterbury.
Welby joined Francis on a recent peace mission to conflict-ridden South Sudan, where huge crowds flocked to see the pontiff, as they do everywhere he goes.
The pope continues to travel widely, despite his age and health issues.
Francis was hospitalised in 2021 for colon surgery and now uses a wheelchair due to knee trouble — something he admitted in one interview he was "a little ashamed" about.
The pope has said he would follow Benedict in resigning if he ever became too infirm for the job but insists that is not on his agenda.
Asked by Italian newspaper Il Fatto Quotidiano what his hopes for the future were, he replied: "That the Lord be merciful with me. Being the pope is not an easy job."