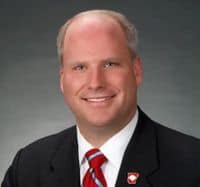 Arkansas Attorney General Dustin McDaniel has for the second time rejected a ballot measure submitted by Arkansans For Equality that would overturn that state's constitutional ban on same-sex marriage. The Christian Post reports:
McDaniel decided Monday that Arkansans for Equality's proposed
measure to repeal Amendment 83 was problematic over the ballot
initiative's language.
Aaron Sadler, spokesman for the Office of
Attorney General Dustin McDaniel, provided The Christian Post with a
copy of the decision. "That rejection was due to misleading tendencies
in the proposed ballot title and the ballot title's failure to include
any mention of the proposal's effect on current law," wrote McDaniel.
"You
may, after clarification of the matters discussed above, submit the
text of your proposed amendment, along with a proposed popular name and
ballot title, at your convenience."
As previously reported, McDaniel rejected a similar petition in July on similar grounds, asserting that the ballot initiative contained "misleading tendencies" and failed to meet the state Supreme Court's requirement for "impartiality." Arkansans for Equality has responded to McDaniel's latest decision with a statement posted to Facebook:
"Today we received word that Arkansas For Equality's ballot language has
been rejected by the Attorney General Dustin McDaniel. Though we are
saddened, we are not terribly surprised," reads the statement. "Getting
language on a ballot is a difficult process. Regardless, it really
doesn't matter… does it? We're all here to fight for our rights. We
don't expect to win today, and we may not win tomorrow, but we WILL have
our human rights."
The measure proposed by Arksansans For Equality, if put on the ballot and passed, would repeal the 2004 constitutional amendment that codified anti-gay discrimination into the state's constitution. However, the repeal of the amendment would not necessarily make same-sex marriage legal in the Natural State. In fact, McDaniel rejected the ballot proposal in July on the grounds that it allegedly misled voters into thinking the repeal of the amendment would make same-sex marriage legal in Arksanas.