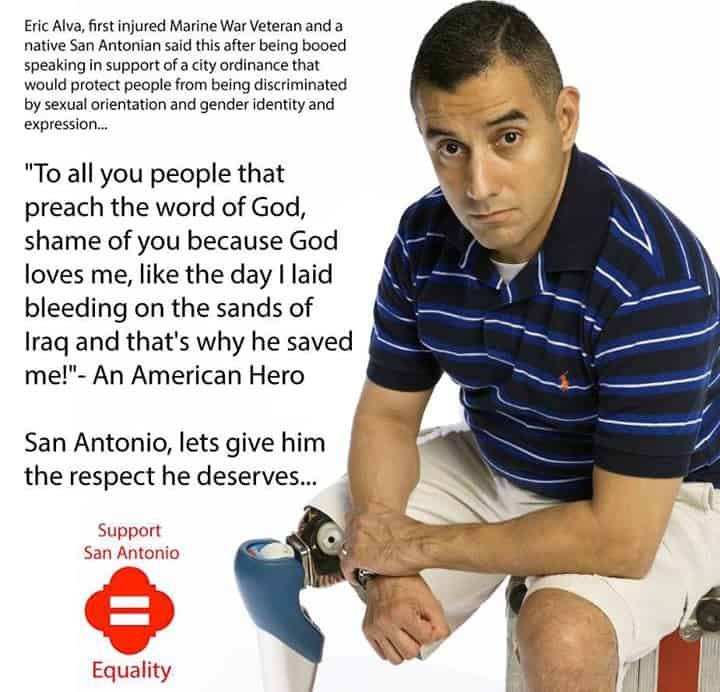 Marine vet Eric Alva proposal was booed while he addressed the San Antonio City Council about an oridinance which would add protections for the LGBT community.
The San Antonio Express-News reports:
"I said that if this ordinance doesn't pass, I could be fired from a job and even thrown out of a restaurant, and people started to boo me," said Alva, 42. "I was real hurt by that. It was unbelievable."
Alva took to Facebook to explain what he said during his closing comments:
"Before I left the podium I said: 'to all you people that preach the word of God, shame of you because God loves me, like the day I laid bleeding on the sands of Iraq and that's why he saved me!'"
That's not the only anti-gay behavior coming from within the San Antonio City Council. Just a few days after Alva was booed, audio of a debate of the ordinance surfaced in which Councilwoman Elisa Chan is heard calling gays and lesbians "disgusting."
This past Friday morning, U.S. Congressman Joaquín Castro issued a statement about both incidences:
"The intolerant views expressed by Councilwoman Chan and the deplorable actions of those who booed a wounded warrior do not represent the sentiments of most San Antonians," the mayor's brother said in a statement. "Our city celebrates diversity and prides itself in supporting our veterans as Military City, USA."
A vote on the ordinance is expected early next month.