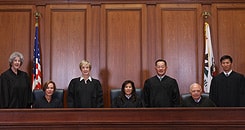 The California Supreme Court has rejected the requests put forth by backers of Prop. 8 to halt same-sex marriage in California. The court had previously denied a request to at least temporarily stop same-sex marriage in California, which resumed shortly after the U.S. Supreme Court's dismissal of Hollngsworth v. Perry on the grounds of standing, while it considered the legal challenges raised by Prop. 8's proponents. The LA Times reports:
Meeting in closed session, the state high court rejected arguments by ProtectMarriage, Proposition 8's sponsors, that only an appellate
court could overturn a statewide law.
A federal judge in San Francisco declared Proposition 8
unconstitutional in 2010, and state officials refused to appeal.
ProtectMarriage did appeal, but the U.S. Supreme Court
ruled in June that initiative sponsors have no right to defend their
measures in federal court. The decision left in place the ruling by
retired Chief U.S. District Judge Vaughn R. Walker.
In its challenge before the
state's highest court, ProtectMarriage argued that a single judge
lacked the authority to overturn a state constitutional amendment.  The
group also contended that Walker's injunction applied to two counties at
most and that state officials had overstepped their authority by
ordering county clerks throughout California to issue same-sex marriage
licenses.
State officials countered that the challenge was a veiled attempt to
persuade a state court to interfere with a federal judge's order in
violation of the U.S. Constitution.
The California Supreme Court's ruling also applies to the briefs filed by San Diego county clerk, Ernest J. Dronenburg, thus putting to an end, at least for now, his contentious attempts to stop same-sex couples from marrying in the Golden State. BuzzFeed reports that California Attorney General Kamala Harris welcomed the court's rejection of the writ of mandate:
"Once again, equality and freedom triumph in California. The California
Supreme Court has denied the Proposition 8 proponents' latest attempt to
deny same-sex couples their constitutional right to marry. I applaud
the Court's decision and my office will continue to defend the civil
rights of all Californians."