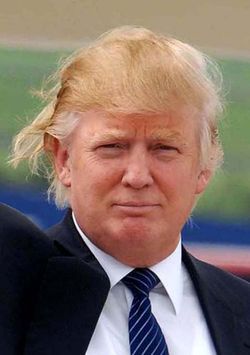 Real estate "mogul" and reality TV entrepreneur Donald Trump is being sued for $40 million by the New York State Attorney General's office over "Trump University", an allegedly false university that lured students in with promises of wealth. According to the suit, all students got were expensive seminars and promises of apprenticeships that often went unfulfilled. 
New York AG Eric Schneiderman told the AP that:
"Trump University engaged in deception at every stage of consumers' advancement through costly programmes and caused real financial harm. Trump University, with Donald Trump's knowledge and participation, relied on Trump's name recognition and celebrity status to take advantage of consumers who believed in the Trump brand."
Schneiderman also told members of the press that many of the "university's" 5,000 students, who paid up to $35,000 a piece in tuition costs, thought that they might at least get to briefly shake Trump's hand at some point during the program. Instead, they got to take a photo next to a life size cardboard cutout. 
Of course, Trump and his attorney Michael Cohen are dismissing the lawsuit as largely political. "The attorney general has been angry because he felt that Mr Trump and his various companies should have done much more for him in terms of fundraising," Cohen said. "This entire investigation is politically motivated and it is a tremendous waste of taxpayers' money." Trump has also started a new website attacking Schneiderman, claiming, in all caps, that:
"TRUMP UNIVERSITY HAS A 98% APPROVAL RATING. SO WHY IS NEW YORK ATTORNEY GENERAL ERIC SCHNEIDERMAN WASTING MILLIONS IN TAXPAYER MONEY GOING AFTER THEM?"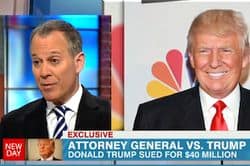 According to AP, Trump University has already been in trouble with the state for years. State education department officials told Trump and company to change the school's name back in 2011, saying that it lacked the proper accreditation to call itself a "university". It has since been renamed as the Trump Entrepreneur Institute, bearing its original name as a "nickname". It has also been "dogged" by civil complaints and isolated lawsuits for years beforehand. Scneiderman's lawsuit itself convers complaints ranging from 2005 to 2011 on behalf of students who paid anywhere between $1,495 and $35,000. 
"Scheiderman said the three-day seminars did not, as promised, teach consumers everything they needed to know about real estate. The Trump University manual tells instructors not to let consumers 'think three days will be enough to make them successful', Schneiderman said.

"At the seminars, consumers were told about 'Trump Elite' mentorships that cost $10,000 to $35,000. Students were promised individual instruction until they made their first deal. Schneiderman said participants were urged to extend the limit on their credit cards for real estate deals, but then used the credit to pay for the Trump Elite programmes. The attorney-general said the program also failed to promptly cancel memberships as promised."
On paper, these practices led to charges of "persistent fraud, illegal and deceptive conduct and violating federal consumer protection law." According to the suit, many students were unable to use their "apprenticeships" to land even one deal, leaving them with thousands in credit card debt without a way to pay those debts off. As for Trump's claims of the lawsuit having political motivation, Schneiderman says that it's actually Trump who has the political motivations. Spokesman Andrew Friedman told the AP that, "the fact that he's still brave enough to follow the investigation wherever it may lead speaks to Mr Schneiderman's character."
Schneiderman also explained in an interview with CNN that the lawsuit came as part of a statewide investigation of for-profit universities in general.
You can watch that interview AFTER THE JUMP…