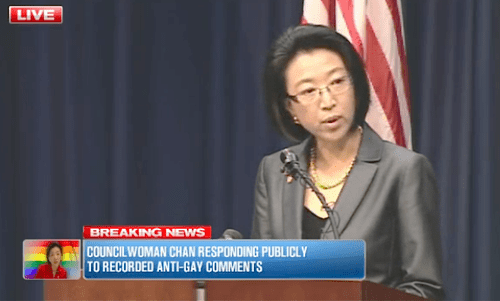 At a press conference earlier today, San Antonio Councilwoman Elisa Chan defended her right to free speech following the firestorm over her recorded comments calling gays and lesbians "disgusting" and unfit to be parents.
"I know that many people find the comments made in the meeting offensive. But again, it was a confidential meeting said in the privacy of my office where none of us are supposed to worry about what we say."
Chan went on to claim that many of her comments have been taken out of context, including her use of the word "disgusting," which she asserted was in reference to pedophilia and sex with animals (the audio transcript says otherwise however). Chan then concluded her speech by extending a half-assed olive branch to the gay community before jumping back on her 'freedom of speech' talking points:
"My belief system is mine, and it does not mean I would like to impose those beliefs onto anyone else. Even though the LGBT community and I don't share the same views, I respect and support their personal freedom and right to their lifestyle. I will, however, not change my own views for political gain or survival (applause)."
Regardless, Chan seems densely unaware of the fact that the public's outrage revolves around what she said, not whether or not she has a right to say it.
Watch a news report of the press conference, AFTER THE JUMP…
If the video does not play properly, you can find it here.