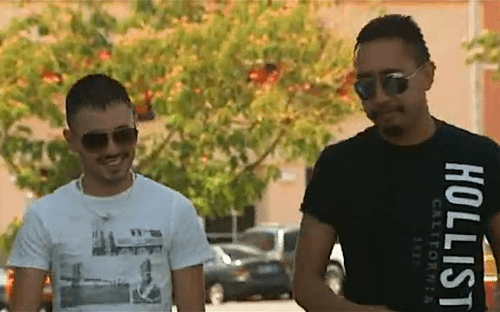 A popular wedding venue in El Paso is under fire after turning away a Texas gay couple's request to hold a reception ceremony at the location. Grace Gardens reportedly told the couple that the event venue was "not allowed to have any services for same-sex marriage," KFOX14 reports:
Monico Ramirez and Jonathan Luna plan to get married in the near future, and tell KFOX14 they were looking for the perfect location to host a reception or ceremony, but not the marriage itself.
"I was looking for a place where I could have my same-sex ceremony, so I went to check out Grace Gardens," Ramirez said. "It was absolutely beautiful, and we decided we wanted to have it there."
Ramirez said he and Luna began going over contract details with a staff employee, and that's when they informed the employee that they planned to have a same-sex reception.
"She just looked at us weird," Ramirez said. "She took us to a lobby, and told us she had to go speak with a manager, we stayed there 15 minutes. She came out and said 'I'm sorry guys, but we are not allowed to have any services for same-sex marriage.'"
But Ramirez told KFOX 14 they were not trying to have a gay marriage, they simply wanted to have a ceremoy or reception at Grace Gardens. Still, he says they were told Grace Gardens can, and would refuse service to them.
"When she told me that, I felt like somebody was throwing a bucket of water on me, it was kind of sad and embarrassing," Ramirez said. "I don't think it's right to be discriminated like that."
Sandra Rodriguez, the venue's owner, responded to the controversy in a statement saying that while it's true Grace Gardens 'does not host same sex ceremonies,' the couple's claim of mistreatment is unfounded.
Says Rodriguez:
At the commencement of the tour the gentlemen informed our sales associate that they were looking for a place to host a wedding ceremony, and they affirmatively stated that the female bride was out of town. It wasn't until the tour was almost completed that the gentlemen inquired as to whether Grace Gardens allowed 'wild parties with strippers.' It was this question that garnered the 'weird' look described by Mr. Ramirez. After responding that she would have to ask management for the answer, the gentlemen revealed that they were actually a same sex couple seeking to have their ceremony and wild party with strippers at Grace Gardens.
Watch a news report of the story here.