Gospel singer Donnie McClurkin, a notorious homophobe who performed at the Republican National Convention in 2004, has vowed to battle "the curse of homosexuality," and believes that gays can be turned straight with religious intervention, pulled out of an MLK Memorial concert last night after objections by gay activists, the WaPo reports: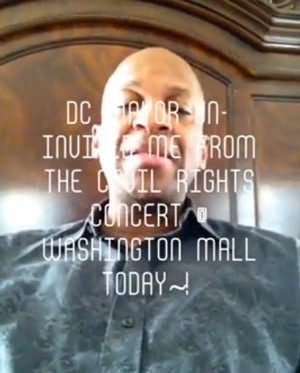 McClurkin was scheduled to perform at the D.C. government-sponsored concert with other singers at the Martin Luther King Jr. Memorial during the "Reflections on Peace From Ghandi to King" event. But at the request of Mayor Vincent C. Gray (D), who fielded concerns from the activists Friday, the Grammy-winning singer decided not to perform, a mayoral spokeswoman said.
"The commission on human rights and Donnie McClurkin's management decided that it would be best for him to withdraw because the purpose of the event is to bring people together," said Gray's spokeswoman, Doxie McCoy. "Mayor Gray said the purpose of the event is to promote peace and harmony. That is what King was all about."
However, McClurkin said that he was in fact "asked not to attend."
He said in a video statement that the mayor "uninvited me from a concert that I was supposed to headline."
You may recall that McClurkin caused controversy when he appeared at a Gospel Tour event for Obama during his election campaign in 2007.
McClurkin released a video statement complaining about his disinvitation.