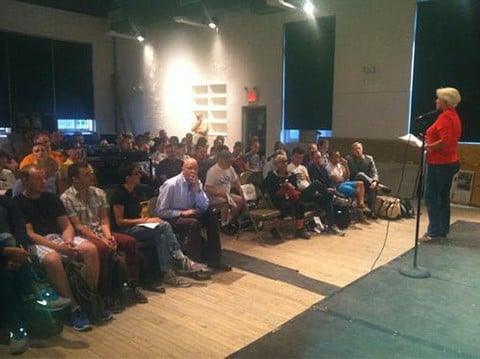 Over 150 people gathered in New York yesterday at the The Lesbian, Gay, Bisexual & Transgender Community Center to discuss the Russian Federation's continued escalating hostility towards LGBT persons. The meeting was organized by Queer Nation NY and welcomed presentations from Russian LGBT group RUSA LGBT co-President Nina Long. The meeting was well attended by Russian and Eastern European ex-pats living in New York in addition to prominent activists and allies including AIDS activist Andy Velez, journalist Andy Humm, activists Randy Wicker, Jamie Bauer, Ira Manhoff, attorney Joan Gibbs, openly gay New York State Senator Brad Hoylman and his predecessor Tom Duane. According to Queer Nation:

Following the presentations, attendees had a wide-ranging discussion
about how the community should respond. There was support for a
continuing boycott of Russian products, including Russian vodka, and the
2014 Winter Olympic Games at Sochi. Other ideas included pressing the
New York City mayoral candidates to oppose the recently enacted Russian
law that bans any pro-gay statements in public or private and on the
Internet to pressing Andrew Cuomo,
New York's governor, to offer Lake Placid, the site of the 1980 Winter
Olympic Games, as an alternative to Russia where the 2014 Games are
scheduled to be held.  
Other proposals included picketing the September 23 Opening Night
Gala at the The Metropolitan Opera. The performers that evening will
include soprano Anna Netrebko and conductor Valery Gergiev, both are
supporters of Vladimir Putin, Russia's president and a champion of the
anti-gay law. Attendees also suggested denying U.S. travel visas to
anti-gay Russian politicians and funneling money and support to LGBT
activists in Russia. Duane proposed that he and a group travel to Russia
to directly confront the anti-gay law. People also proposed targeting
the sponsors of the 2014 Games. 
New York Magazine interviewed a number of the Russian emigres in attendance, asking them about their experiences coming to America and what they think should be done in response to Russia's anti-gay laws. Roman Mamanov, 30, who came to New York last October, was a TV presenter in Russia like Anton Krasovsky but feared for his safety after coming out:
"My colleagues knew I was gay. I got threats on my life in messages and
phone calls. So I quit. I'm seeking asylum here. I want to still be a
journalist. I want to get some education here. I feel secure here. I
have friends and opportunities here."
Also in attendance, porn producer and PrEP advocate Michael Lucas advocated action in response to the Russian laws:
"I think it's important to put the pressure on the International Olympics
Committee and also to boycott the Games. Some people are saying, 'Oh,
but so many athletes are training so hard.' There are millions of gay
Russians who are suffering versus some athletes."
Queer Nation plans to have a follow up meeting to be held at The LGBT Center on August 21 which will be attended by Russian journalist Masha Gessen who recently announced she will leave Russia out of fear for her family's safety.