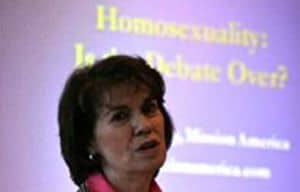 Towleroad readers are no stranger to conservative-wingnut radio show host Linda Harvey and her outrageous and commonly-false statements about LGBT people and their rights. Thus, one could certainly predict that she would react negatively to New Jersey Governor Chris Christie's recent decision to sign a statewide ban of gay-to-straight conversion therapy for minors. Her recent column for WMD did not disappoint.
In it, she claims that Christie is a pawn to "the gay-stapo" and "fascist left-wing schemes" that are "keeping some adolescents locked into homosexuality," which she claims is the "byproduct of early sexual exposure or molestation." She also uses the false correlation between homosexuality and HIV to make a ridiculous prediction for the future of New Jersey: 
"So now Christie favors teens being denied the opportunity to overcome homosexual desires, which are not inborn but often the byproduct of early sexual exposure or molestation. No science has found a gay gene, but Christie said he believes people are born this way and that it's not a sin.

"There are only a few reasons why an alleged "conservative" politician supports such fascist left-wing schemes. Perhaps Christie doesn't really have much of a heart for kids. If 12-year-olds are indoctrinated at school into thinking they are homosexual and end up the victims of advances by HIV-infected predators, maybe the governor is not too concerned. If New Jersey HIV incidence relating to homosexual practices continues to rise among youth, perhaps he can point to some other factor. Not his fault.

"Another possibility is Christie really believes all this and is a woefully ignorant product of East Coast group-think. But he could also be running in fear of the "gay" lobby. Yes, they are vicious. Yes, they may try to ruin your life. Yes, they distort the facts, scream over imagined slights and use outright lies to further the cause."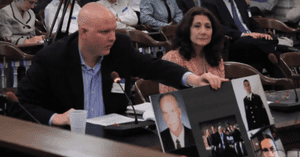 Let's take a look at the many fallacies of logic that Harvey commits in this passage. First, this so-called science that Harvey holds so dear has yet to find any correlation between a person's sexuality and a history of childhood sexual assault. She also neglects to mention the fact that virtually the entire scientific and mental health community agrees that conversion therapy does nothing to change a person's actual sexual orientation, and can even cause serious harm to its patients. Thankfully, Christie did make mention of that fact. Harvey also fails to produce any evidence of "HIV-infected predators", or any sort of evidence that HIV is a disease that stems from of primarily affects the LGBT community. Finally, she fails to support her statement that "vicious" members of the "gay lobby" are trying to "ruin your life", or that they "distort the facts", "scream over imagined slights and use outright lies to further the cause."
Ironically, all of those last accusations are more appropriately directed at Harvey and company.