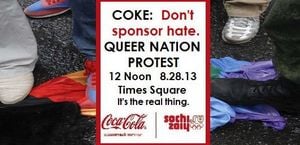 After being asked their stances on Russia, it's anti-gay laws, and how they might affect the upcoming Winter Olympic Games in Sochi by Buzzfeed, most of the Olympics corporate sponsors have chosen to refrain entirely from making any waves for the IOC, all while continuing to offer financial support. LGBT and human rights advocates have already noted that the IOC and its corporate partners could very well have used their influence to stop Russia's anti-gay legislation, but chose not to. As a result, they have already started protesting corporate sponsors such as McDonald's. Queer Nation will soon add Coca-Cola to that list this upcoming Wednesday, thanks to an announcement made on the group's Facebook page:
"Coke: Don't Sponsor Hate! The Coca Cola Company is sponsoring Russian government hate at the 2014 Winter Olympic Games in Sochi. In June, Russia enacted its anti-gay propaganda law that bans any pro-LGBT statement in public or private and on the Internet. The Russian government has made being out and proud a crime. Coke is a World Partner and a major sponsor of the Games. Join Queer Nation NY and RUSA LGBT. Hashtag: #DumpCoke"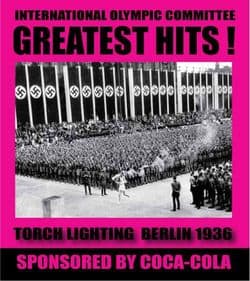 The protest is scheduled to take place on Wednesday, August 28, starting at 12:00 noon and continuing until 1:00 PM, according to the Facebook event. 
You may remember Queer Nation as one of the groups that previously called for a boycott of Russian vodka as a result of the same anti-gay legislation. You may also remember them and RUSA LGBT as the groups who staged a protest outside of the Russian consulate in New York City. They were subsequently joined by other members of the local LGBT community, including the HIV advocacy group ACT UP. It is not yet known if Queer Nation and RUSA LGBT will be joined by any of those same people this upcoming Wednesday.