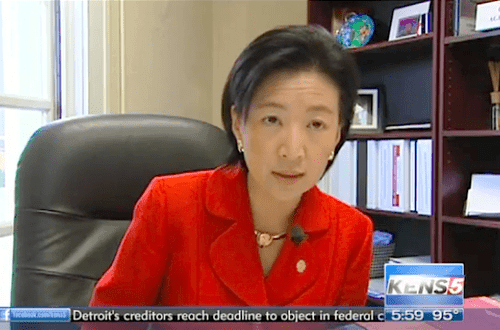 San Antonio Councilwoman Elisa Chan has issued her first public statement since a staff meeting recording emerged of her calling gays and lesbians 'disgusting' and unfit to be parents. The comments were recorded during a closed meeting over a possible update to the city's nondiscrimination ordinance to protect sexual orientation and gender identity.
"The comments from the staff meeting on May 21st were and are my personal opinions and thoughts as guaranteed to me by the 1st amendment to the U.S. Constitution. It is unfortunate that a former member of my D9 Council team betrayed the trust of my staff members and me. I will fight, I will always fight for our freedom of speech, especially in a private setting."
Check out a news report of the story, AFTER THE JUMP…
While Chan's remarks have been condemned by Mayor Julian Castro and others, she has receieved backing from the San Antonio based Justice Foundation, a non-profit law firm that advocates for limited government and freedom of religious expression. Allan E. Parker, president of the Justice Foundation, defended Chan and warned that the proposed ordinance would criminalize those who express their opposition to homosexuality:
"I'm glad she's not resigning and I'm glad she's standing by her right to have her own opinion," said Parker. "That's the issue in this case. Will we be able to disagree in San Antonio or is one side going to be criminalized?"
One has to wonder if Chan and the Justice Foundation would still be the 'champions' of freedom of speech they claim to be if a fellow councilmember had directed animus towards Chan's ethnicity or gender…