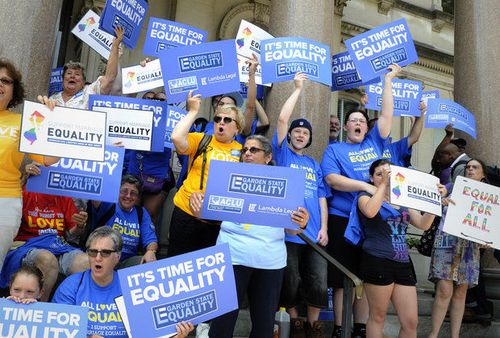 Supporters of marriage equality in New Jersey have been hard at work to move legislators from the 'no' to the 'yes' column to override Gov. Chris Christie's 2012 veto of an equal marriage bill.  They have until the January 2014 expiration of the current legislative session to do so, but so far, Republicans have marched in near-lockstep with Christie and even some racalcitrant Democrats have held out on supporting equality marriage.  That is, until now, reports George Amick in NJ.com:
The bill Christie vetoed, S1, passed the Senate 24-16, with two Republicans, Sens. Diane Allen (R-Edgewater Park) and Jennifer Beck (R-Red Bank), voting yes and two Democrats voting no. If those four votes remain unchanged, three additional yes votes will be needed to beat the veto.

In the Assembly, the tally was 42-33, with no Republicans voting yes, two Democrats voting no, three Republicans and one Democrat not voting, and one Democratic seat temporarily vacant. A veto override will require 12 additional ayes.

At least three of those 12 — one Republican and two Democratic — are in sight right now. 

The Republican, first-time Assemblywoman Holly Schepisi, says her decision was influenced by the U.S. Supreme Court's June decision invalidating Section 3 of the Defense of Marriage Act.  The end of that provision in DOMA meant that New Jersey's civil unions–which were purportedly meant to provide same-sex couples the same legal rights as different-sex couples–mean that same-sex couples in New Jersey are locked out of federal marriage benefits.
As for Democrats, the two legislators who say they will back the override, Wayne DeAngelo and Gabriela Mosquera, were not available for the initial vote.  DeAngelo told Amick that he will seek his constituents' input on the issue, although he said pointedly, "I'm for equal treatment."
Amick also reported that New Jersey United for Marriage is optimistic that two Republicans who did not vote in 2012, Declan O'Scanlon and Mary Pat Angelini, will end up voting 'yes' on the override.
In his article, Amick includes an excerpt of the tough love message marriage equality advocates are presenting to state legislators in order to sway their votes:
"The Christie factor? Assume the governor is re-elected. Whether he wins big or wins small, the day he takes the oath of office he'll be a lame duck. The pressure on you to do things his way will ease. In a couple of years, he could resign to run for president. But you'll still be here, probably long after he's gone. As for other concerns, we can show you evidence that only a tiny number of legislators nationwide who voted for gay marriage paid any price for it at election time.

"It's going to be part of your legacy, one way or another. If it happens because of the courts, and not because of your vote, it will be a part of history that you can't change. Do you really want to have to explain a few years from now — when marriage equality will be in the mainstream, not even in the discussion any longer — why you resisted it to the end?"
If the newly supportive lawmakers cited by Amick do not change their votes, marriage equality advocates would need nine more Assembly members and three more Senators to beat Christie's veto.  If that does end up happening, it'll quite likely come down to the wire.  And if the veto override doesn't occur, LGBT advocates will turn their sights back to the courts, where a state judge last month heard oral arguments as to whether civil unions violate both the New Jersey and U.S. Constitutions.