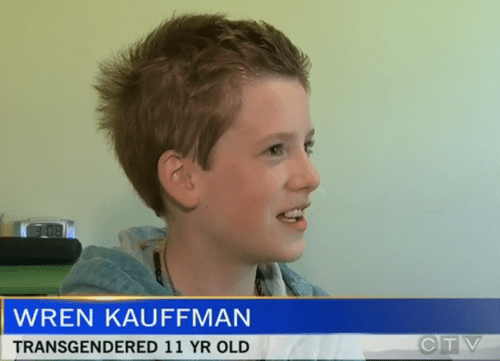 Wren Kauffman is living proof of the progress that transgender people are making in North America. He is 11 years old, just started grade 6 in Edmonton, Alberta and he recently came out to his school as transgender. His brave steps have garnered him media attention across Canada. 
Wren said he was originally apprehensive about coming out to his classmates. But after he did come out he wasn't bullied or called names, he said. And he has the full support of his teachers and the school division to back him up in case anything does happen.
From CTV News:
At all Edmonton Public Schools, there are rules to protect lesbian, gay, transgender, bisexual and queer students – the district was the first in western Canada to enact such rules.
"With regards to the washroom, he uses the male washroom," [Stacey Taylor, Wren's teacher] said. "Same as the camping trip, he identifies as male so we put him with the male students."
The CTV article contrasts Wren's story with that of Coy Mathis, a 6-year-old girl in Colorado whose school refused to allow her to use the girls' washroom. Coy's parents were left with the choice to leave her in that hostile environment or homeschool her. They chose the latter. 
The video-profile of Wren can be watched here. The CBC broadcast a radio program on Wren which can be played AFTER THE JUMP…