Equality Matters: Media complicit in legislative attack on LGBT Americans.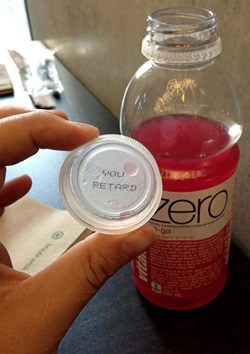 Coca-Cola apologizes for "You Retard" bottle cap.

Video: Penguins may be dressed for weddings but not necessarily willing to participate.

White House Press Secretary Jay Carney is unaware that Oklahoma, Texas, Mississippi, and Louisiana are withholding spousal benefits for gay troops: "I do not know the answer to the question about the president," Carney said. "I would refer you to the Department of Defense on it. I can take your question and we can talk about it later. I'm just not aware of these developments."

Kate Winslet is not changing her name to Kate Rocknroll.

Opposition to Obamacare hits a new low with Koch Brothers campaign.

Gay video games coming out of the closet: "Two developers slave away in their respective home offices, working tirelessly on their indie games. The titles have a similar aesthetic (they feature hand-drawn cartoon animations) and both are defined as gay-themed. In Melbourne, Australia, Luke Miller continually updates his sci-fi adventure gay game, My Ex-Boyfriend the Space Tyrant, in an attempt to pass the title through Steam's Greenlight program. In Eureka, USA, Obscura is using a successfully-funded Kickstarter campaign to get her erotic dating simulator Coming Out on Top into the hands of gamers."

Chris Hemsworth is naked in Rush, from the back.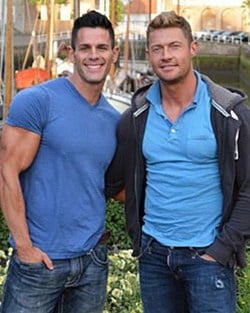 Gay couple deletes crowdfunding page that attempted to raise money to send parent to one of their multi-day, pan-global wedding celebrations after merciless mocking from Gawker makes it go viral. And Kenneth has a flashback…

Progress North Carolina would like Orson Scott Card removed from the UNC -TV Board of Trustees.

West Covina, CA man charged in slaying of transgender woman: "[Melony] Smith, who was listed at the Los Angeles County Department of Coroner as Vanhxay Inthichack, was discovered dead in her motel room in the 13900 block of Francisquito Avenue about 1:30 p.m. Sept. 9."

David Mixner goes off on Republicans.

Legal fight brewing in Louisiana? "Louisiana's revenue department won't recognize same-sex marriages for tax filings, despite a new IRS rule that allows legally married gay couples to file joint federal tax returns and a Louisiana law requiring taxpayers to use the same filing status on state and federal tax forms
Revenue Secretary Tim Barfield said Louisiana can't recognize a same-sex marriage tax filing because of its constitutional ban on gay marriage, according to a document outlining the state's position and obtained Friday."

Henry Cavill is dashing in a gray suit in The Man from U.N.C.L.E..

Can you handle more Scott Eastwood shirtlessness?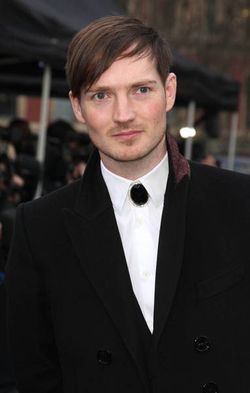 The Feeling's Dan Gillespie-Sells is sick of celebrities who come out as gay but then won't talk about it: "Oh god if anyone comes out I'm like 'good for you!' I get a little frustrated with the people that half come out, the people who are like 'I don't want to talk about it, I wanna keep it real. Everyone knows you're gay; you just look ashamed, just shut up and say it! It really pisses me off, not because I feel like everyone has to bare their soul all the time, people don't have to know all the private details of their lives, but it's nothing to be f**king ashamed of, so why act ashamed?! It drives me crazy."

NOM would like to boycott any business that supports "the homosexual lifestyle in general".

Rich Juzwiak: Summer ends in the middle of everything.

Senate expected to confirm gay nominee Todd Hughes to U.S. Circuit Court: "The U.S. Senate is poised to make history on Tuesday when it may confirm an openly gay man for the first-time ever to a seat on a federal appeals court…Adam Jentleson, a Reid spokesperson, said an agreement with Republicans was reached to proceed with the nomination, so 60 votes to end a filibuster won't be necessary. A simple majority vote can confirm Hughes.
It's unlikely Hughes will face difficulties on the Senate floor. The Senate Judiciary Committee reported out his nomination in July by voice vote."