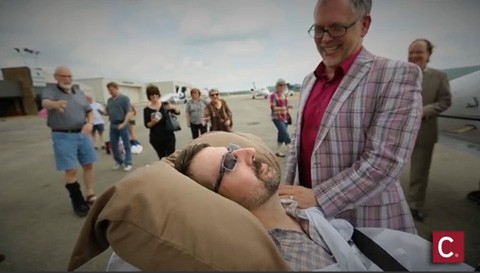 Ohio Rep. John Becker, (R-Union Township, pictured below) wants to impeach Judge Timothy S. Black, who in July ordered the state to recognize the marriage of John Arthur and Jim Obergefell.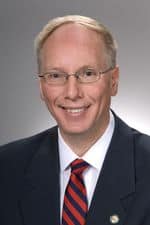 Arthur and Obergefell, you may recall, chartered a plane to Maryland with the help of friends, family, and social media, so that they could marry because Arthur is terminally-ill with ALS, and married on the airport tarmac. They also filed a lawsuit challenging Ohio's ban on same-sex marriage.
Becker wants Black impeached for "malfeasance and abuse of power," and is calling on Rep. Brad Wenstrup (R-OH) to start the proceedings, Cincinatti.com reports:
"I am writing you today to express my concerns about the federal government's ever growing propensity to violate state sovereignty," Becker wrote Friday in a letter to Wenstrup, a Columbia-Tusculum Republican.
Federal judges are appointed for life. The only way to remove a federal judge is for the House of Representatives to impeach the judge and the Senate to vote to remove the judge from office.
"Judge Black has demonstrated his incompetence by allowing his personal political bias to supersede jurisprudence," Becker wrote. "This will begin the process of restoring state sovereignty back to the original intent of the US Constitution."
Wenstrup released a statement: "While Judge Black's ruling violated the Ohio Constitution and the will of Ohio voters, the question of whether this decision also violated the U.S. Constitution remains before a higher court. I will watch those appellate proceedings closely to see if Judge Black's decision is upheld and I have full confidence in the Ohio's office of the Attorney General during the appeals process."