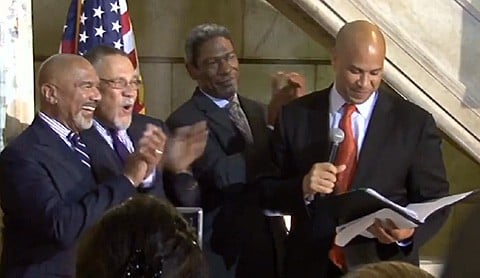 Earlier we posted a shorter video of the marriage equality proceedings officiated by Newark mayor Cory Booker last night. Before he married Orville Bell and Joseph Panessidi, Booker asked, "I must ask if there's anyone present here today that should know of any reason why Joseph and Orville should not be married, speak now or forever hold your peace."
Screamed a heckler. "This is unlawful in the eyes of God!"
Booker then had the heckler removed, and continued to cheers…
"Not hearing any substantive, worthy objections, I now will proceed."
Watch, AFTER THE JUMP…
(clip via jmg)