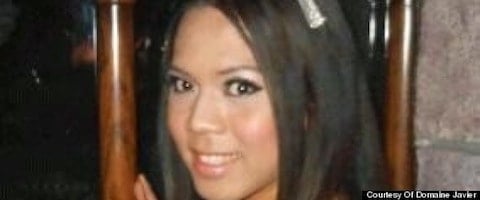 Domaine Javier applied for admission to the California Baptist University in Riverside to pursue studies in nursing after having attended Riverside City College for several years.
Despite initially being accepted to CBU with honors, her admission was revoked when the school officials learned that she was transgender and faulted her with "committing or attempting to engage in fraud, or concealing identity." Adding insult to injury, Ms. Javier is banned from the campus grounds.
In a private meeting with the dean where she was not allowed to bring anyone else nor take notes, she was informed that the fraud she had committed was checking "Female" in her application. The dean had seen her appearance on MTV's True Life where she discussed the challenges of being transgender, and since she was not biologically female, Ms. Javier had committed fraud. She was expelled soon after the meeting.
Davis Wright Tremaine LLP associate Paul Southwick helped file a lawsuit on Ms. Javier's behalf with the Riverside County Superior Court, claiming that CBU violated California's Unruh Civil Rights Act, which prohibits businesses from discriminating based on gender identity. The university countered by claiming freedom of religion, but Wright's riposte was that CBU "competes in the public marketplace to attract students regardless of their religious affiliation" and was a participant in a government backed, tax-free bond-financing program, through which "it has raised over $100 million…and is seeking an additional $155 million, to construct educational facilities to be used exclusively in support of secular education."