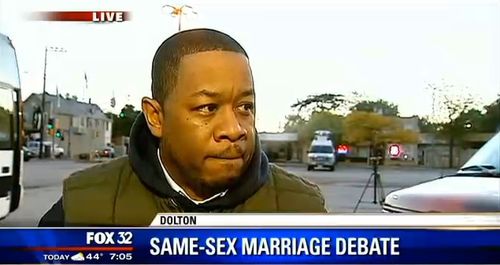 An Illinois pastor on his way to an anti-gay marriage protest in Springfield this week opted for offensive comparisons rather than rational thought when questioned by a reporter from Fox 32. He assured the reporter that "Our nation is not built on the strength of its army or its finances, but what goes on in our living rooms, and family always has been and will always be the foundation and bedrock of society. And so we're gonna stand for what God ordained; it's one woman, one man. Every child needs a mom and a dad." Things take an unpredictable turn after that.
Good As You's Jeremy Hooper reports:
…stick around until the 2:00 mark, when a local pastor compares gay parents like me to "five-year-olds who think they can drive cars."
Of course these folks will be rallying alongside one of the most overtly hostile organizations working in any of our states. Being compared to a reckless toddler with road rage might be tame compared to what else we'll hear today in Springfield.
Watch the short sermon, AFTER THE JUMP…