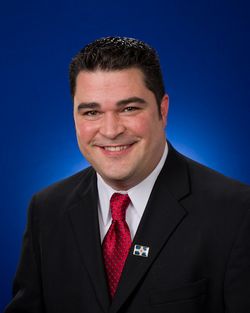 Indiana's first openly gay countywide official, Zach Adamson, will be making history once again, announcing that he and longtime partner Christian Mosburg will be heading to D.C. this week to get married. Indianapolis Star has the story:
Like any couple on the verge of marriage, they're excited about taking their vows. But they also hope that marriages like theirs can help to further break down the stereotypes and biases that have discriminated against gay individuals and couples for so long.
"It's important that people see this doesn't have to be the wedge issue or the divisive issue that it is often portrayed as," said Adamson, a 42-year-old first-term Democratic councilman. "We are just doing what other people do."
Adamson said the positive reception they've received, and the opportunity to get married, "just speaks to how far we've come." It's indeed a reminder of how much things have changed in a relatively short period of time.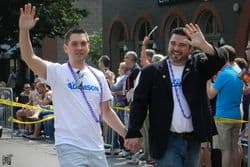 GOP leaders in the state, however, have been immune to these changes, continuing to push for a state constitutional amendment banning gay marriage on the November 2014 ballot. Polls have already shown Hoosiers are strongly opposed to the amendment proposal, with many, including Adamson and Mosburg, seeing it as an issue of common decency.
"Putting a group of people's civil rights and self-worth up to a vote of their fellow citizens has a very deep and entrenched impact on a human being," Adamson said. 
Mosburg said in a more perfect scenario their wedding would be taking place in Indiana. State law, however, already prohibits same-sex marriages, so the couple will have to make do with a follow-up ceremony in Indianapolis. 
"This is where we live," he said. "This is where we've put our home base. This is where most of our friends are. You should be able to say that the place you've chosen to be your home is your home for everything."
And one day, it will be.