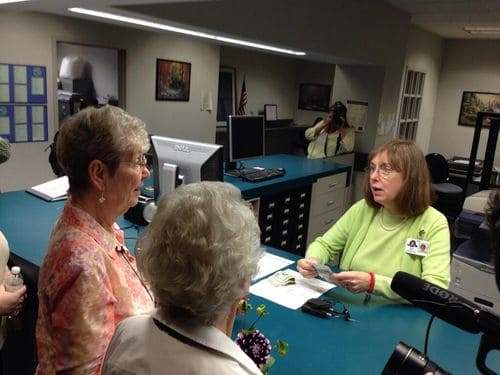 A North Carolina lesbian couple attempted to get married in their home county of Henderson on Tuesday, hoping the Register of Deeds, Nedra Moles, would follow in the footsteps of Pennsylvania's Bruce Hanes, Register of Wills for Montgomery County, and issue them a marriage license despite their state's ban on same-sex marriage. Unfortunately, Carole Kaiser and Mary Burson waited in line with their daughters and their church pastor only to be rebuffed, as BlueRidgeNow.com reports:
"Carole and I are here today to apply for a marriage license," said
79-year-old Mary Burson, "because we love each other, we've been
together for 40 years…we've raised eight children together and we want
to make the commitment that our brothers and sisters that are
heterosexual can make." […]
"Well,
consider is about all I can do, because you both know that according to
North Carolina law, I cannot issue the marriage license (to same-sex
couples)," Moles said. "I've made you a copy of the N.C. General
Statute, in case you would like to look at it, but I cannot do this
today. So, I must turn you down…If I went ahead and issued
you a license, I would be breaking the law, and I can't do that," she
said. "That's the position that I'm in, as well as all of my deputies."
Kaiser and Burson decided to challenge North Carolina's ban on same-sex marriage as part of the WE DO campaign which urges couple across the South to push for marriage licenses in their hometowns. The movement is based out of North Carolina and has been operating since 2011. Since that time 80 LGBT couples have filed for marriage licenses in their hometowns across seven states in the South. All have been denied.
North Carolina's ban on same-sex marriage, also known as Amendment One, was passed in May of 2012.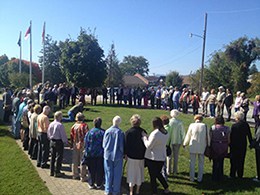 Though unsuccessful in receiving a marriage license, Kaiser and Burson drew a great deal of attention to their trip to the county courthouse. They also had strong support from their Church. Gathered outside the County office were 70 supporters, many of whom hailed from the First Congregational Church in Hendersonville, where Kaiser and Burson have worshipped for three years. Their pastor, the Rev. Richard Weidler, became emotional, wiping away tears, saying Kaiser and Burson are "'wonderful Christian
women' who deserve the right to marry."
The couple, who first met in 1974 in Illinois, never had any intention to live their life together openly and proudly, let alone to participate in a civil rights movement. But later in life, something changed within them:
When
they retired to Hendersonville in 2003, "we had lived in the closet for
a lot of years," said Burson. "And we said, 'We're not going to do that
anymore. We're going to be honest about who we are.'" But she added,
"We've never waved a flag saying, you know, 'We're more than just
friends.'"
Kaiser and Burson's daughter, Kim Gallagher, 54, spoke of the value she hopes her mothers' journey will provide for her own children:
"My prayer is that my
children will not experience discrimination and that they will open
their hearts to diversity, in whatever regard," Gallagher said. "And I
think their grandmothers have taught them how to do that. And how to be
brave."
(Images via Twitter – CSElive and Frank Kracher)