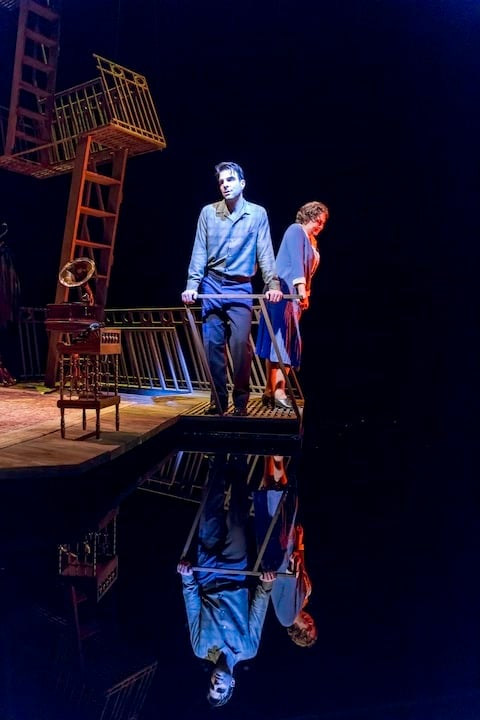 BY NAVEEN KUMAR
Director John Tiffany's stylish and superbly acted revival of The Glass Menagerie opened on Broadway last week at the Booth Theatre. Arriving on Broadway after a critically acclaimed run at the American Repertory Theatre in Cambridge, the production is at once faithful to Tennessee Williams' specific ideas about how the play ought to be performed, and unmistakably revelatory.

The 1944 work that launched Williams' career is a not so thinly veiled autobiographical account with parallels to his own family life, which the writer deems a 'memory play.' Tom (played here by Zachary Quinto) acts as narrator, looking back on memories of his somewhat delusional and heartily overbearing mother Amanda (Cherry Jones), and physically impaired, isolated sister Laura (Celia Keenan-Bolger).
Cooped up together in a middle-class tenement of St. Louis during the height of the Great Depression, the Wingfield family inches by on Tom's warehouse salary, their father having left when the children were young. Amanda's nostalgia for her glory days as a Southern belle blends with her aspirations for her daughter Laura, so painfully shy that her prospects for finding either a job or a husband to support her seem dire.
In his production notes for the play, Williams writes: "Expressionism and all other unconventional techniques in drama have only one valid aim, and that is a closer approach to truth." Tiffany's use of stylized movement and other carefully conceived 'unconventional' elements is both imaginative and precise. Taken together, the overall effect is an evocation of memories so far removed and yet immediate that the play feels like a vivid dream—with emotional truth never far from the surface.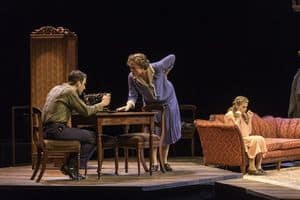 With a softly lilting Southern cadence, Quinto brings out the poetry in Williams' language to captivating effect. As a son (and grown man) looking back on loved ones he left behind and alternately reliving his past, Quinto registers a rich spectrum of regret, restlessness, filial affection, and an unspoken, deeply disguised longing. A frustrated poet widely accepted as a stand-in for Williams, Tom's buried desire is often interpreted as homosexual, as it is quite subtly here.
With her performance as Amanda, Ms. Jones demonstrates why she is rightfully among the most celebrated stage actors of her (or really, anyone's) generation. By turns tender and smothering, pragmatic and delusional, and garrulous without turning shrill—her Amanda quite viscerally inspires the same complex gambit of emotions with which anyone who has a mother is familiar.
Amanda's assessment of her daughter, that "still water runs deep," may never have seemed more true. Ms. Keenan-Bolger's careful, heartfelt performance as Laura hints at the elaborate emotional turmoil swirling underneath her surface stillness. It's a metaphor that encompasses Tiffany's production, itself set on a small collection of rooms surrounded by dark waters—a family marooned.

Brian J. Smith is likewise excellent as Jim, the long awaited Gentleman Caller. In the hands of Smith and Keenan-Bolger, the oft-rehearsed courtship between Jim and Laura feels fresh and alive, with an enchanting chemistry that makes the play's conclusion that much more moving.
Joining Tiffany is the creative team with whom he also collaborated on the Tony Award winning musical Once (with many taking home individual awards), including movement director Steven Hoggett, designers Natasha Katz (lighting), Clive Goodwin (sound), and Bob Crowley (scenic and costume). Together with a supremely talented company, they deliver a haunting and extraordinary revival that's sure to become a benchmark for future productions.
Recent theatre features…
 'Romeo and Juliet' Starring Orlando Bloom Opens On Broadway: REVIEW
 Ethan Coen's 'Women or Nothing' Opens Off Broadway: REVIEW
 New Musical 'First Date' Opens on Broadway: REVIEW
'Harbor' with Randy Harrison Opens Off Broadway: REVIEW
 'A Kid Like Jake' Opens Off Broadway at LCT3: REVIEW

Follow Naveen Kumar on Twitter: @Mr_NaveenKumar (photos: michael j. lutch)