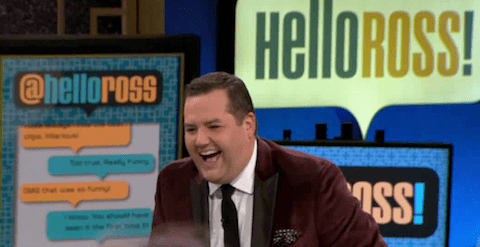 This is the second installment in a two-part interview with TV personality Ross Mathews. Click HERE for yesterday's first installment, in which Mathews discusses his new role as a spokesman for HIV testing.
If there's one thing Ross Mathews loves, it's pop culture. His sincere appreciation of all things pop and all-around nice guy attitude have won him a loyal fanbase of fellow entertainment enthusiasts (and recently earned him additional episodes onto his hit show's inaugural season). We caught up with Mathews last week to discuss award show red carpets, his pop culture obsessions and what life has been like since he's gone from talk show intern to talk show host.
Towleroad: What has it been like for you to have your own show?
Ross Mathews: It's a dream come true. I've wanted a talk show since I was eight years old, and now to be able to do it, and do it the right way and the way I wanted to is so rewarding. Especially because it's resonating with the audience, and the fans are getting it, and the format is clicking. People are understanding that this show really is a show for super fans in pop culture to unite. Everyone's welcome at this party. There are so many shows that turn down pop culture and talk about how stupid it is, but Hello Ross is all about 'I love it, you love it, let's talk it out.'
See the rest of the interview in which he talks about his dream guests and the recent TV finale that left him disappointed, AFTER THE JUMP…
TR: What have you found particularly challenging about working on the show?
 
RM: It's a shift from going from like a freelancer who travels, and there were times I would have four days off … To have a normal job with weekends off, I don't understand how people get haircuts. When am I supposed to do that? It's all new to me. I'm eight weeks now into having a normal, real-person job. Then what happens is I work on the weekends, I do the red carpets or I travel and do a college speaking engagement or something like that. I can't figure out when I'm supposed to get some stuff done. I'm sure it will work out.
TR: Who are some of your dream guests for the show, living or dead?
Well, tonight we have Gloria Estefan, next week we have Kris Jenner and then the week after that, we have Gwyneth Paltrow. So dream guests, we're getting them, we're achieving it. I'd love to have Lady Gaga on, because I'd love to provide that to her fans. Her fans are really loyal, and to give that kind of access to her fans would be great. Plus, I don't know who she is, so I'd like to try and crack that nut. I'd love to have Oprah in. Dead or alive? I'd love to have had Marilyn Monroe in, just because I think she is the most iconic Hollywood figure I can think of. 
What would you have liked to ask her?
I would ask her if all the fame scared her. I'd ask her who she really is and if anyone really knows her.
You're a pretty busy guy, what else are you working on?
I have the book, Man Up!, which is a best seller, I'm still out selling that book and talking about that book. We have the show, Hello Ross, every Friday at 10 p.m./9 p.m. Central after Fashion Police. I'm doing Chelsea Lately, and then getting to work to really spread the message about knowing your status with OraQuick. There is so much going on right now, but I'm loving every second of it.

What's the hardest thing about working the red carpet?
There is nowhere to go potty. For the last hour I usually have to go so bad, like number one, so bad. 

What's your favorite part about the red carpets?
The best part is just being there. I spent so many years in a small farm town watching, wishing, dreaming, hoping I could see it one day for myself. Now I've been covering them for 12 years, and it never gets old, just being there. For me, it's like living history.

What's been your favorite red carpet memory?
My favorite red carpet memory would be asking Gwyneth to be my best friend, and then she said yes and now we are.

What are your current pop-culture obsessions?
I am upset with Dexter, because the finale was so horrible. I am so obsessed and in deep with Breaking Bad, I can't even tell you. I watched it on my iPad and caught up, and now I'm like in it. I'm still obsessed all the time with HGTV and House Hunters, and I watch a lot of Food Network — even though that makes me sound like a senior citizen, but I don't care. Of course, I'm obsessed with Miley Cyrus and her trajectory right now. I'm really in deep with Housewives. I'm invested in Lindsay Lohan's sobriety. I should probably get a life.