Anderson Cooper visits the University of Kentucky. "I can honestly think that being gay is the greatest privilege of my life."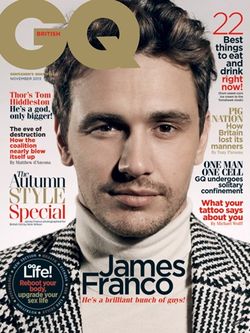 James Franco covers British GQ.

AUDIO: Miley Cyrus and Britney 'sing' together on 'SMS'

David Mixner on Ted Cruz's extortion plot: "This craziness must stop now and this is a 'line drawn in the sand' that is worth fighting for with all our strength. If we bend to the crazies then there will be no end to their extortion. In fact, what will end is democracy itself as a tiny extremist minority representing less than 20% of Americans have their way."

Former Georgia legislator Roger Hines attacks Kennessaw State University's decision to celebrate 'Gay Pride month' in October: "For that matter, KSU's celebration of Gay Pride is an affront to the entire state since the university, the state's third largest, receives tax money generated by citizens across Georgia. No one who has lived in Georgia for six months could be in doubt about the state's predominant culture. We aren't Washington State, and Atlanta isn't San Francisco either, or not yet."

YouTube is launching its own music awards show.

Bradley Cooper looking buff at the beach.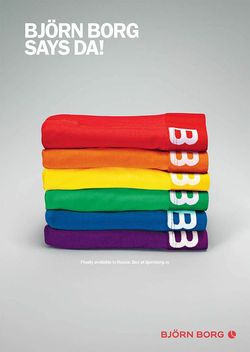 Bjorn Borg launched his online shopping store in Russia with this full page ad in the Moscow Times.

Scottish footballer Fraser Mullen faces firestorm on social media after homophobic tweet:  "To the homosexual who ruined my night. Thank you poof bore off and grow a set." Today, a spokesman for the defender said the slur had been a "mistake".

The UK loves a filthy James McAvoy.

Jodie Foster reportedly "in love" with Ellen DeGeneres's ex-girlfriend Alexandra Hedison: "Internet chatter about the two began in the summer when the two were photographed together at a technology seminar at Fox Studios in Los Angeles and out to dinner with friends a few days later. Both were at the opening of Alan Cumming's Macbeth in NYC back in April, but they weren't photographed together."

Meteorologist gives up flying over new report on climate change: "I just broke down in tears in boarding area at SFO while on my phone with my wife," Holthaus tweeted. "I never cried because of a science report before…I realized, just now: This has to be the last flight I ever take. I'm committing right now to stop flying. It's not worth the climate…We have to do everything we can, every day to reverse CO2 emissions. There is no other way that makes sense."

David Beckham running over rooftops in his underwear.

Defying government shutdown, veterans storm WWII Memorial.

Pennsylvania pastor who officiated gay son's wedding to face trial at Methodist panel: "The love for my son took over the fear of losing my job with the United Methodist Church," Shaefer told the Lebanon Daily News. "It was a tough decision in some sense, but I just knew I had to make it. I had to follow my heart."

Gay Republican Peter Thiel and Ted Cruz are tight: "t's an odd marriage of interests, the sort Cruz otherwise opposes as a matter of principle: Peter Thiel is a pot-smoking gay man, which makes him the kind of person Cruz supporters would like to launch into some sort of Martian exile. But Thiel is also, crucially, a massively rich bussinessman, which is enough for Cruz to shelve his Tea Party druthers and accept hundreds of thousands of dollars from the Silicon Valley luminary."