Pope Francis calls 'Extraordinary Synod' on family and marriage: "For Francis, issues of family and marriage are the ones that require deeper interpretation given the signs of the times, and dedicating a synod to the topic suggests he wants to unify church teaching about them. When local church offices around the world make their own decisions about marriage and family—especially about serving communion to divorced and remarried Catholics—the global church as whole becomes divided."

Pippa Middleton flies afoul of animal rights activists.

The most adorable cat of the day. So far at least.

Tom Hanks reveals he has Type 2 diabetes. Once known for parts that saw him gain and lose a considerable amount of weight, Hanks told the BBC he no longer considers roles that require extreme weight gain out of concern for his health.

Ricky Martin and his boys look darling in Darling Harbor, Australia.

Leading up to Thursday's episode of Glee remembering Corey Monteith, the show has released full versions of the songs being performed which includes "Seasons of Love" from Rent, "If I Die Young" by The Band Perry and "I'll Stand By You" which Monteith himself performed in the show's first season.

Male Model Fix: Francisco Lachowski

Freedom to Marry offers up an excellent chart showing the 19 states where couples are suing for marriage equality.

Leotard fashion update from the 2013 World Gymnastics Championships. And some nice biceps.

Despite claiming to be "shell-shocked" after being trounced by President Obama, the Romney campaign's own internal polls showed Romney would lose, giving him only an 18% chance of winning.

Monday Night's Dancing With The Stars saw a lot of male shirtlessness.

Miss Piggy takes on Miley Cyrus and "Wrecking Ball."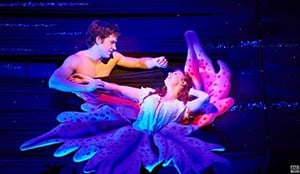 Compared to adults in other developed countries, Americans are lagging behind according to a new study: "The study, perhaps the most detailed of its kind, shows that the
well-documented pattern of several other countries surging past the
United States in students' test scores and young people's college graduation rates
corresponds to a skills gap, extending far beyond school. In the United
States, young adults in particular fare poorly compared with their
international competitors of the same ages — not just in math and
technology, but also in literacy."

The Light Princess, a new musical with music and lyrics by Tori Amos, is now in previews at London's National Theater.

Is the beard back?