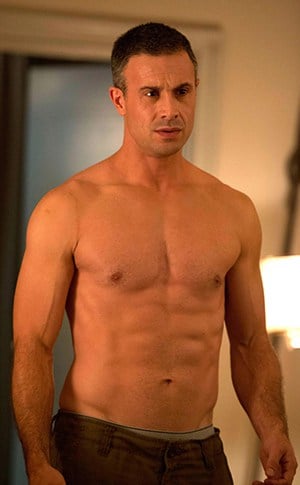 Though absent from our screens both big and small for some time, Mr. Sarah Michelle Gellar is making his return to TV this month on Lifetime's The Witches of East End, according to E! Online. And, apparently, Prinze Jr. decided not to leave his shirt at home:
"He'll reportedly be playing Leo Wingate, "a gallant and sweetly shy entomologist who falls head over heels for Wendy Beauchamp (Madchen Amick)," according to EW. "The scholar is said to specialize in rare and exotic insects, and he soon begins to wonder whether Wendy is more interested in his body or his bugs. He is set to guest star in the fourth episode, with more episodes possible."
Prinze Jr.'s last stint on TV was as Cole Ortiz on 24. The episode of East End featuring Prinze Jr. will air October 27. He's also slated to guest star on the season premiere Bones. Whether or not he will be equally undressed on that show is anyone's guess. Will you be tuning in to welcome Freddie back to TV land?