On September 27th, a New Jersey judge, Mary Jacobsen, ruled that same-sex marriage must be made legal now that the federal government recognizes it. Now, Chris Christie and his administration have made a last ditch effort to delay the legalization of marriage, which would go into effect on October 21st. Governor Christie, who believes that marriage should be put to the ballot and vetoed a marriage equality bill last year, filed with the state on Monday.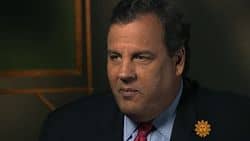 The Associated Press reports:
In a filing Monday, the state says allowing gay couples to marry starting in two weeks would make it difficult for the state's top court to reverse course should it agree with the Christie administration's anti-gay marriage stand.
The administration wants implementation of the ruling by Judge Mary Jacobson in Trenton delayed while higher courts consider the appeal.
Gay rights advocates say no stay should be granted because couples are hurt by a delay. Monday's filing came in response to their opposition to the delay.
What do you think of Christie's argument? Does it hold water, or will Judge Jacobsen's ruling stand?