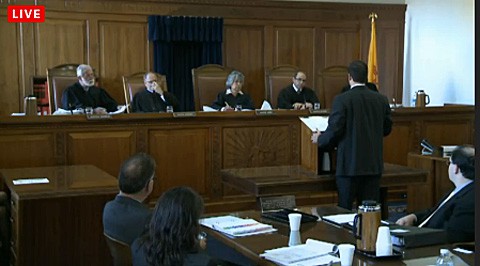 Arguments are being heard on same-sex marriage this morning before the New Mexico Supreme Court.
Watch LIVE (opens in new window), AFTER THE JUMP…

New Mexico's Supreme Court will hear arguments on Wednesday regarding a petition filed by 33 New Mexico County Clerks asking the court to issue a statewide binding resolution on the legality of same-sex marriage in the state. The request came in September following weeks in which eight New Mexico counties began issuing marriage licenses to gay couples based on the state's gender-neutral marriage laws, beginning with Doña Ana County on August 21.
Later in September, the American Civil Liberties Union, the ACLU of New Mexico, the National Center for Lesbian Rights (NCLR), the law firm of Sutin, Thayer & Browne APC, and other New Mexico attorneys filed a brief urging the Court to issue a binding ruling.
Conservative lawmakers and groups followed with their own brief, asking the court to declare it illegal.
The New Mexico Supreme Court said it won't decide immediately on same-sex marriage after hearing arguments on Wednesday: "The court clerk told lawyers last week that the court won't make a decision on the day of the hearing but will take the case under consideration. The justices will hear one hour of arguments on constitutional issues and an hour on issues about state statutes involving marriage."
Also at KOAT if above feed is not working.