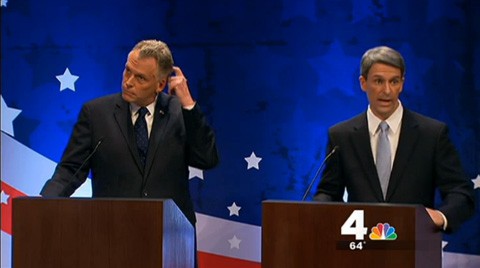 Virginia gubernatorial candidate Ken Cuccinelli's abysmal and hateful position on gay people and gay rights were brought up by opponent Terry McAuliffe in a debate last week at Virginia Tech, the Washington Blade reports:
McAuliffe pointed out his Republican rival once described gay Virginians as "soulless human beings" in response to a question during an Oct. 24 debate at Virginia Tech in Blacksburg that Roanoke television station WDBJ sponsored.
"Who talks like that," McAuliffe said. "There's somebody in this audience who might be gay or has a friend who's gay. You cannot grow and diversify our economy with this mean-spirited language."
McAuliffe, who has publicly backed marriage rights for same-sex couples alongside the two other Democratic candidates for statewide office, further sought to differentiate himself from Cuccinelli during a campaign rally at Herndon Middle School on Monday at which former President Clinton spoke. U.S. Sen. Mark Warner; Congressman Gerry Connolly and state Del. Charniele Herring (D-Alexandria), who chairs the Democratic Party of Virginia, also addressed those who attended the event.
"We must be a state where gay Virginians are treated equally," McAuliffe said.
Recent polls show McAuliffe leading by a 51-39 percent margin.