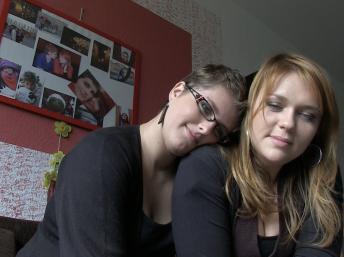 After a nation-wide campaign that brought thousands of protesters on both sides of the issue out into the streets of Paris earlier this year, the French legislature approved a marriage equality bill by an overwhelming vote that was signed into law by President François Hollande the following month, making France the 14th state to allow same-sex couples to wed.
But some same-sex couples are discovering that they may be barred from marrying because of a quirk in French marital law, as RFI English reports:
Frenchwoman Lise and her Polish girlfriend Agnieszka have been together for three years. They were looking forward to getting married after France this year became the 14th country to legalise same-sex marriage, following months of bitter debate.

"We were also really happy because it meant that we were accepted by the society," Agnieszka said. "Then our relationship can be recognised, and we are not freaks or…"

"Different," Lise added.

But under a bilateral agreement signed between Poland and France in 1967, Agnieszka falls under Polish marriage law even while in France. Since Poland doesn't recognise gay marriage, a French magistrate would have to overrule Polish law to approve the wedding.
Ten other countries fall into the same category as Poland for the purposes of French marriage law for same-sex couples: Algeria, Bosnia-Herzegovina, Cambodia, Kosovo, Laos, Montenegro, Morocco, Serbia, Slovenia and Tunisia. In a memo issued last week to French civil servants, the justice ministry wrote, "When a marriage is planned between two people of the same sex, and one of the future spouses is a national of one of these countries, the civil registrar cannot perform the marriage." Requests from such couples must be denied and sent to a magistrate, who will determine if the couple can wed on a case-by-case basis.
Christiane Taubira, France's justice minister and a strong proponent of marriage equality, said she would consider reconsidering the rules regarding binational same-sex marriages so that officials aren't specifically instructed to refuse couples' requests.
Last month, a French-Moroccan same-sex couple's marriage request in the town of Chambéry was refused on the couple's wedding day–after friends and family had travelled from Morocco and Belgium to celebrate the occasion. The couple plans to challenge the decision in court, since France does not enforce another aspect of Morocco's marriage laws that prohibit Muslims from wedding non-Muslims who have not converted.