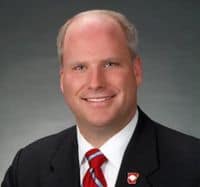 Arkansas Attorney General Dustin McDaniel (pictured) has accepted language for a proposed 2016 ballot measure submitted by Arkansas Initiative for Marriage Equality (AIME) that would repeal the state's constitutional amendment prohibiting same-sex marriage and would bring marriage equality to the Natural State.
Back in September, McDaniel approved the wording of a proposed 2014 ballot measure by a separate group that would repeal the constitutional amendment, but wouldn't specifically call for legalizing gay marriage. The Houston Chronicle reports:
[AIME Founder Jack Weir] said he planned to help the group trying to get the gay marriage ban repeal on the ballot next year while also gathering support for his 2016 proposal. McDaniel had rejected earlier versions of Weir's proposal because it didn't address the ban currently in the constitution.
"It's going to take a lot of effort from our people and the newcomers we'll have in the next three years," he said. "I see people's hearts and minds changing every time we go to an event and talk to people. I see a big change coming in Arkansas."
Weir said he hopes to quickly begin gathering the necessary 78,133 signatures from registered voters needed to place the proposal on the ballot.