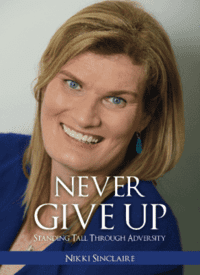 Nikki Sinclaire, a British member of the European Parliament, has revealed in a new autobiography that she underwent a sex change at the age of 23. Sinclaire gave a follow-up interview with The Sun, stating that she first realized she should have been a female at the age of three.
"It sounds weird, but I knew something was wrong even then – I've always felt I was in the wrong body. I remember dressing up as a girl on my first day of school. It then started to happen every day. The other kids knew I was different," she said.
In her early 20s, Sinclaire began hormone replacement treatment before undergoing the sex change. Sinclaire says that complications from the surgery nearly killed her, but maintains that it was a necessity for her well-being.
"If I hadn't become a woman I would have led a lonely, neurotic life, forever out of place, endlessly consulting doctors and therapists at public expense. As it is I have become a happy, fulfilled achiever and I have repaid, in tax, the cost of my NHS operation many times over."
Moving forward, Sinclaire says she doesn't want her past to overshadow her ambition of becoming a cabinet minister at Westminster.
"I feel passionately that true equality happens only when your colour, creed, gender or sexuality is not a label used next to your name. We are not there yet."