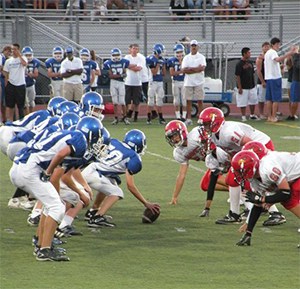 On the heels of the Senate's vote today to pass the Employment Non-Discrimination Act (ENDA) that would prohibit discrimination in hiring and employment based on sexual orientation and gender identity, comes a story out of Oakland, California about a high school football coach and English teacher, Burke Wallace, who was allegedly fired for being gay. Wallace was let go from his post as head of the football team this past spring and was ultimately forced to leave his job as a teacher at the school because of harassment and stress. Now Wallace is filing a lawsuit against the high school.
The Contra Costa Times reports:
According to a lawsuit filed in Alameda County Superior Court, Burke Wallace — the head varsity football coach at Livermore Valley Charter Prep High School in 2012 — alleges his supervisors discriminated against him after he mentioned "in passing" that he had a husband.
The school, the Tri-Valley Learning Corporation [the non-profit organization that runs the school], and a number of John Does are named in the suit.
"He was wrongfully terminated because of his sexual orientation, and the (school's) administration is responsible for that," said John Furstenthal, Wallace's attorney. "They may try to come up with all these different excuses, but I don't think they'll hold water in court."
Furstenthal said Wallace's sexuality was no secret and that some parents and administrators objected to him coaching the team. The suit claims Wallace's supervisors openly discussed his orientation and "how it was a bad idea having a gay football coach."
Derek Austin, attorney for the Tri-Valley Learning Corporation, when asked for a comment by the Contra Costa Times said he had not seen the lawsuit in question.
(Photo via Facebook)