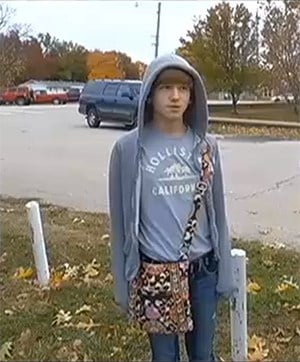 Thirteen-year old Skylar Davis of Garnett, Kansas was suspended from school yesterday for wearing a Vera Bradley purse to Anderson County Senior-Junior School and refusing to take it off, KCTV 5 New reports. Skylar has been wearing the bag since school started in August. School officials have not had a problem with the bag until yesterday. Though the school has not issued a statement regarding Skylar's suspension, he was told not to return to school until he stops wearing the purse, something he does not intend to do. Skylar and his family believe the school's actions are discriminatory:
"I don't think everyone should be treated differently," Skylar Davis said. "Everyone should have the same privileges…[The purse] expresses myself and I think everyone else can wear it, so I wear it as well," Skylar told KCTV5's Dave Jordan. […]
"I was a little furious, and I called the school [and spoke to Assistant Principal Don Hillard] to reverify the story, and yeah, he refused to take off his Vera Bradley bag, nothing more to do it," [Skylar's mother, Leslie Willis] said.
She said she reviewed the student handbook but did not see a mention to bags or purses. She questions the suspension and the timing.
"Skylar has been going to school since August with that same Vera Bradley bag on, hasn't taken it off. What is the problem?" she asked.
Skylar's brother, Dakota Haight, also spoke out in support of his brother, criticizing the school's concern with Skylar's choice of school bag:
"I've seen girls wear short shorts. Why don't they get kicked out? But then he gets kicked out for a purse? That doesn't make sense. It's not right," Haight said.
Watch a news report on Skylar's suspension AFTER THE JUMP…