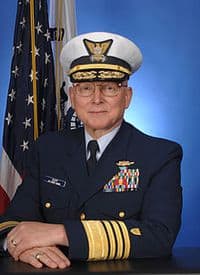 In a guidance memo made public Thursday, the Coast Guard announced it has now added sexual orientation to its equal opportunity and anti-discrimination/anti-harassment policy statements. The guidance was dated Oct. 13th and signed by Coast Guard Commandant Adm. Bob Papp (pictured right).
The Washington Blade reports:
"We must continue to uphold our core values of Honor, Respect and Devotion to Duty which underlie our excellence in mission execution, good order and discipline, and morale," Papp writes. "Maintaining workplaces that are free from harassment and discrimination is essential to our readiness and to ensure we remain, Semper Paratus, Always Ready.
Stephen Peters, president of the American Military Partners Association, commended Papp for taking action to protect gay members of the coast guard and said the Pentagon should make similar policy for other branches of the armed forces.
"We urge the Secretary of Defense to do the same in order to ensure all uniformed service members are protected from unjust discrimination, not just those in the Coast Guard," Peters said. "While Department of Defense civilian employees are protected, the DoD has yet to add orientation to its non-discrimination policy for uniformed troops. This lack of inclusion has a direct impact on not only the service member's ability to serve openly and honestly without fear of harassment, but their spouse and family as well."
Gender identity, however, was not included in the new policy changes.
Brynn Tannehill, director of advocacy for the LGBT military group SPART*A, commended the Coast Guard for adding the protections, but said the service is unable to change transgender policy because it's "modeled after that of the DoD's."
"We believe that it is time to revisit these outdated policies," Tannehill said. "The SPART*A Transgender Chapter has members who are part of the Coast Guard. The existing medical policies on transgender Coast Guard service are every bit as harmful to them as DADT was to lesbian, gay, and bisexual service members, and have nothing to do with their actual ability and desire to serve."