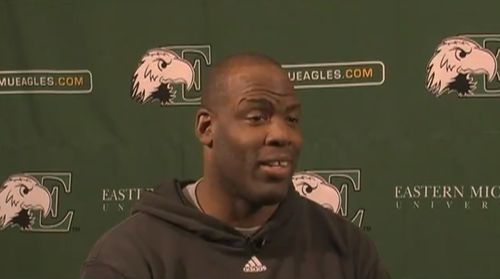 Ron English, the now-former Eastern Michigan University football coach, has expressed regret over a furious tirade against his team that took place in October and included a gay slur, among other expletives. The blow-up was recorded (likely by one of the team members) and sent to school officials who confirmed its authenticity. They also verified that the rant was among the reasons for English's dismissal. 
The Detroit News reports:
"I received a tape of a situation in which Coach English had addressed the team and used wholly inappropriate language," Eastern athletic director Heather Lyke said in the statement Saturday.
"We hold our coaches and staff to high standards of professionalism and conduct and there is no place, particularly in a student environment, where the language is appropriate. The statements made by Coach English are absolutely unacceptable. My decision to make a change in leadership of our football program was the culmination of a lot of factors including the comprehensive review of our program, the competitive performance and this tape.
In an interview with the AP, English seemed particularly regretful about his usage of the gay slur, and he hoped that this incident would not impede the continuation of his career elsewhere.
The Journal Gazette reports on that interview:
"As a man who has coached 21 years, obviously, on this occasion and particular meeting, I lost my poise, got upset and used language that was inappropriate, particularly as it pertains to homosexual slurs. I regret that," English told the AP in a telephone interview Saturday, hours after the school released a statement explaining why he was fired the previous day.
"I apologize to the university for putting it in this position and tarnishing its reputation. I look forward to continuing a career that has been marked by molding men of integrity, passion, and intensity for 21 years."
Listen to the (censored) outburst, AFTER THE JUMP…