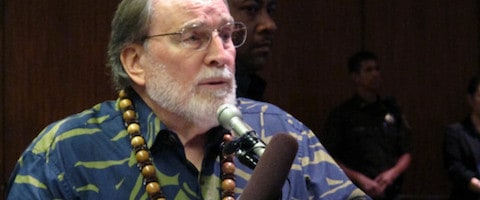 Michelangelo Signorile interviewed Hawaii Governor Neil Abercrombie this past weekend about the legalization of gay marriage in the Aloha State. Abercrombie enthusiastically welcomed all gay couples to come to the state to celebrate their love and tie the knot, and expressed his pride at Hawaii's role in forwarding equality for gay couples, saying,
Part of the sense of Aloha that we try to live by is the sense that our diversity should define us, not divide us. Persevere in extending our humanity to one another.
When Signorile broached the topic of representative Jo Jordan, the first openly gay or lesbian legislator in the U.S. to vote against gay marriage and who did so on grounds that she didn't believe the religious protections were strong enough, Abercrombie said, 
She was a lonely voice in this. I understand it. I disagree with her. She had her reservations about [the bill] sufficient to cause her to vote no. And I'm going to take her at her word. My job now is not to seek retribution or go over the validity of what the motivation was for people's votes, but to work with them all.
You can listen to Abercrombie and Signorile discussing representative Jordan, along with more clips from the interview, below: