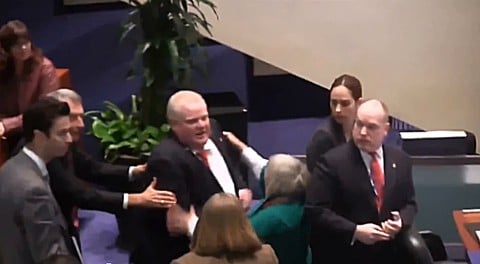 Crack-smoking homophobe Toronto Mayor Rob Ford was stripped of most of his powers by the City Council today, but not before putting on a childish show which climaxed in a charge around the chamber during which Ford knocked a female councilor off her feet. NBC News reports:
The meeting was full of drama: lawmakers pleaded with Ford to get help; the mayor vowed revenge against anyone who voted against him; and spectators shouted "Shame!" But the most surreal moment came when Ford, who appears to be in the 300-pound range, suddenly darted across the room and right into Councilor Pam McConnell, who fell.
Video of the mishap seemed to show him helping to pull the woman back up.
"I rushed over there because my brother was in an altercation," Ford explained when one of the lawmakers announced McConnell had a swollen lip and demanded an apology from him.
Watch the Globe and Mail's unbelievable video, AFTER THE JUMP…