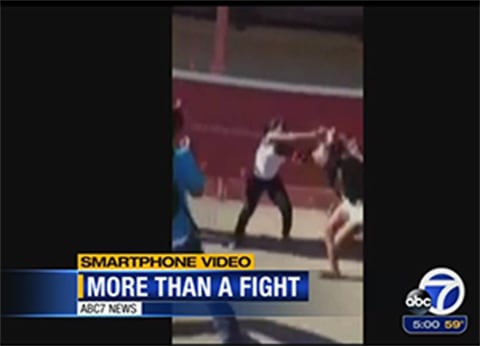 A fight that erupted at Hercules High School in Northern California this week is being investigated as a possible hate crime after a group of female students quarrelled with a transgender girl who school officials say was pushed too far after repeated taunting, teasing and bullying over her gender identity. A cell phone video of the incident in question shows the transgender student and her assailants in a "disturbing" brawl. ABC 7 has the report:
It happened Wednesday in a courtyard at Hercules High School, between sixth and seventh periods.
"At one point, just about every member that was involved in the fight ends up on the ground," Assistant Principal Ken Hickok said. "There was lots of hair pulling, hitting, slapping."
No one was seriously hurt.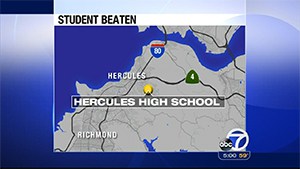 School officials say the transgender student initiated the physical contact, but only after she was verbally assaulted.
"After being under stressful situations day after day of being teased and talked about, obviously at some point you're going to explode," said Charles Ramsey with the West Contra Costa School Board.
The transgender student complained to school administrators about being bullied just two days ago and a warning was given to the other students involved.
"They were told knock it off and then something transpired yesterday afternoon," said Adam Taylor with the West Contra Costa School District.
Four students involved in the fight now face disciplinary action, though their fate has yet to be determined by school administrators.
Watch a news report from ABC 7 showing the cell phone video of the fight AFTER THE JUMP…