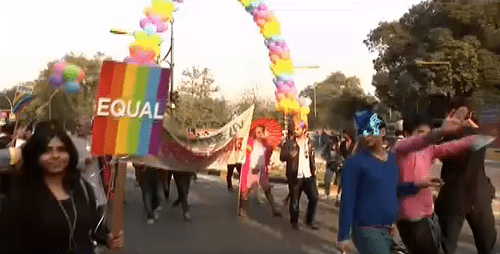 Earlier today, hundreds of gay rights advocates and allies paraded through the streets of New Delhi to demand full equality under the law and to push for an end to anti-gay stigmatization in India. Mail & Guardian reports:
The demonstrators urged an end to all forms of discrimination against gays, lesbians and transgenders in India, four years after a colonial-era law that criminalised gay sex was overturned.
One group of activists carried a 15-metre rainbow-coloured banner, while others waved placards demanding the freedom to lead dignified lives.
The march ended with a public meeting at Jantar Mantar, the main area for protests in New Delhi. Many gay rights group members and their families danced and sang as drummers and musicians performed. Others distributed rainbow-coloured flags and badges to members of the public who gathered to watch and listen to the speeches.
Check out footage of the march, AFTER THE JUMP…